Underpinning a recovery – infrastructure elements of the 2021 Ontario budget
Posted on April 05, 2021
By Catherine Doyle and Mark Johnson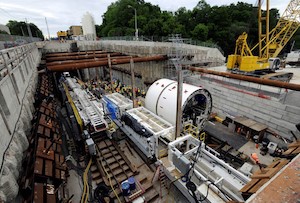 On March 24, 2021, Ontario's Finance Minister, Peter Bethlenfalvy, released Ontario's 2021 budget entitled, Ontario's Action Plan: Protecting People's Health and Our Economy. The budget forms part of Ontario's action plan to protect both health and the economy in the wake of COVID-19. In this regard, it covers two main themes: the protection of the health of the citizens of Ontario and the mitigation of the effect of COVID-19 on the province's economy and finances.
In what will be welcome news to the infrastructure development and construction sectors, the budget makes clear that a key element of the government's plan to stimulate Ontario's economy is by way of increased investments in infrastructure. To that end, the budget allocates significant funds to infrastructure spending, including core investments in transit, highways, schools, hospitals and broadband. Specifically, the budget provides for infrastructure investments over the next 10 years totaling $145.4 billion, with $16.9 billion targeted for outlay in 2021–22 alone.
Transit infrastructure
As with recent provincial budgets, a significant portion of the budget's $145.4 billion infrastructure allocation is to transit, with $61.6 billion committed over the coming decade. Of this amount, $28.5 billion has been set aside for the province's four legacy priority subway projects (Ontario Line, the Scarborough Subway Extension, the Yonge North Subway Extension and the Eglinton Crosstown West).
An updated LRT project for the City of Hamilton is also designated in the budget, a fifth priority transit project, receiving a renewed allocation of $1 billion in capital funding coupled with a call upon the federal government to act as a funding partner.
The budget also affirms Ontario's commitment to projects currently under construction, such as its partnership with the City of Toronto on SmartTrack, the ongoing GO Rail Expansion program, and additional improvements and expansions on the Kitchener Go Line involving infrastructure improvements, track maintenance and other track upgrades.
Separate and apart from the above projects, the budget notes that Ontario is committed to reviewing initiatives to meet transportation needs in the North and includes an investment of $5 million for initial planning and design work on a potential future passenger rail service between Toronto, North Bay, Timmins and Cochrane.
Highway, road and bridge infrastructure
Also specifically highlighted in the budget is the province's highway, road and bridge infrastructure program, which include various expansion and rehabilitation projects.
Per the budget, $21 billion in funding has already been allocated over 10 years to expand and repair Ontario's highways and bridges ($2.6 billion in 2021–22), including the widening of Highway 6, Highway 40 and Highway 400, the expansion of Highway 6, the expansion of Highway 401 between Hamilton and Guelph, engineering and environmental assessment work on the Bradford Bypass and works on the Cochrane Bypass.
Education infrastructure
In addition to funds allocated to the education sector related to improvements for remote learning technology and enhanced COVID-19 safety, the budget includes investments of $14 billion in capital grants over 10 years to build new schools, upgrade existing schools and support other education-related projects. As part of this investment, Ontario will provide $1.4 billion in 2021–22 (unchanged from the prior year) specifically for facility repair and renewal. Of this sum, $550 million is allocated to the building of 20 new schools and eight expansions to existing schools.
The budget also provides for $493 million over three years in capital grants to support colleges and universities in making critical maintenance, repairs and upgrades.
Hospital and healthcare infrastructure
In addition to measures targeted specifically at overcoming COVID-19, the budget includes investments of $30.2 billion in hospital infrastructure over the coming decade, an increase of over ten per cent since the province's last budget delivered in 2020.
Capital projects specifically noted in the budget for investment include a new inpatient care tower in Etobicoke, a rebuild of the Mississauga hospital with Trillium Health Partners, new construction at Peel Memorial, expansions at London Health Sciences Centre, planning for new hospitals in Windsor-Essex and Moosonee as well as for an ambulatory care centre on Moose Factory Island, and investments in the development of new children's treatment centres in Chatham-Kent and Ottawa.
The budget includes mention of many other major hospital projects across the province that are currently under construction or progressing through various stages of planning, but the budget does not describe specific funding allocations for them.
Broadband infrastructure
COVID-19 has highlighted deficiencies in access to, and reliability and affordability of, broadband and cellular services in Ontario. The budget includes an upsized investment of $2.8 billion for broadband infrastructure, with a stated goal of ensuring that reliable broadband service be available to every region in the province by 2025. When added to prior commitments, this will amount to almost $4 billion over a six-year period commencing in 2019.
Notably, the budget specifically states that Ontario's initiatives in the broadband space will seek to leverage additional funding from both the federal government and the private sector (although further details of such funding are not provided).
Municipal infrastructure, rural and northern communities
Announced in January 2021 but reaffirmed in the budget, the 2021 Ontario Community Infrastructure Fund (OCIF) will provide up to a $200 million investment in 424 municipal communities for critical infrastructure needs, including the building and repair of roads, bridges, water and wastewater infrastructure. Focusing on communities where populations are less than 100,000, as well as rural and Northern Communities, the OCIF has the potential to provide a much-needed funding boost.
Long-term care infrastructure
The budget includes an additional allocation of $933 million over four years—on top of the province's already announced investment of $1.75 billion—for the building of new long-term care beds in the province with a stated goal of building 30,000 long-term care beds. The number of new beds remains unchanged from prior provincial budgets.
The budget also confirms that certain of this new long-term care bed capacity is being provided through Ontario's new Accelerated Build Pilot Program, which is being used to accelerate the development and construction of four new long-term care homes in Mississauga, Ajax and Toronto, all slated for completion in early 2022.
Federal government's role
As with prior provincial budgets, this budget calls on the federal government to partner with Ontario in achieving many of the infrastructure-related goals set forth in the budget, including most notably through federal–provincial programs like the Investing in Canada Infrastructure Program. The province has nominated over 760 projects for the program, including projects across its five streams: public transit; rural and northern communities' infrastructure; green infrastructure; community, culture and recreation infrastructure; and COVID-19 resilience.
Conclusion
The budget demonstrates Ontario's continued commitment to supporting both new and ongoing infrastructure projects. In fact, the budget points to the province's proposed infrastructure investments as a key tool for protection of the economy, driving jobs and growth throughout the development, construction and operations sectors, as well as a means to correct certain deficiencies laid bare by COVID-19, such as the need for better broadband connectivity outside of the province's urban centres.
The budget is also forecasting a significant deficit of $33.1 billion for 2021–22. Although this number is slightly lower than the forecasted amount from the 2020-21 budget, it is a stark reminder that the sustainability of continued infrastructure investments in the province will rest upon other sources of capital, including other levels of government and the private sector.
This article was written by Catherine Doyle and Mark Johnson, partners at Blake, Cassels & Graydon LLP. It was originally published on the firm's website on March 29. We reprint it here with permission.