Unions take aim at tax fraud
Posted on April 08, 2021
The Carpenters union is part of a group taking aim at tax fraud in the construction industry.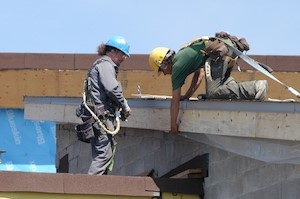 The Carpenters' District Council of Ontario (CDCO) announced it has joined a North American-wide union campaign to stop construction industry tax fraud and end illegal worksites.
The union estimates that tax fraud amounts to between $1.8 billion and $3.1 billion in Ontario each year, with money siphoned out of such public-sector revenue sources as income tax, HST, the Workplace Safety and Insurance Board, the Canada Pension Plan, and employment insurance.
The latest study on the issue commissioned by the Ontario Construction Secretariat (OCS) suggests that the value of work in construction's underground economy has increased by 30 percent between 2009 and 2019.
One of the ways contractors dodge the obligation to pay WSIB premiums, for example, is by improperly classifying workers as independent operators. OCS says floor covering installers, tilers, painters and carpenters are particulary susceptible to this practice. Doing so gives these companies illegal competitive advantages over legitimate contractors who comply with their WSIB, payroll and employment tax obligations.
The OCS report estimates that only 22 percent of Ontario's independent operators are registered with WSIB. Close to 84,000 others are not.
"These illegal activities not only defraud workers out of their rightful pay and benefits, but they also result in higher likelihoods of injuries on worksites and even human trafficking in extreme cases," says CDCO president Mike Yorke. "It is time for our members, law enforcement, legislators, and taxpayers to say enough is enough. Together, we can protect our hardworking construction labour force, now and into the future."  
The union is calling attention to the issue of tax fraud in the industry as part of a North America-wide series of Tax Fraud Days of Action, from April 14 to 17.
Joining CDCO is the Millwright Regional Council of Ontario (MRCO), which argues that companies that cheat on their taxes also and undermine legislation also tend to cut corners with safety.
"Safety is our highest priority," says Mark Beardsworth, MRCO assistant executive secretary-treasurer. "We develop safety partnerships with contractors and owners to protect the health and safety of our millwrights, and to safeguard owners' investments. Our goal is to maintain safety as the highest priority while keeping productivity moving."
The carpenters union is calling for government and the industry to take several steps to weed out underground contractors. One is for the public to send letters to provincial and federal Parliamentarians to advocate for action against these illegal activities. The union has created a form letter for distribution at www.notaxfraud.com.
Another is to report illegal worksites to authorities.
CDCO is also asking the provincial government to educate workers on their rights, and to investigate and prosecute companies that unlawfully engage in worker exploitation. It is also calling on the federal government to devote teams to investigate tax fraud in the industry. 
"Collaboration amongst all stakeholders is the best defence against the underground economy," said Tony Iannuzzi, the carpenters union's executive secretary treasurer. "From healthcare to transit and schools, imagine the infrastructure we could build in Ontario without tax fraud."