Windsor building permits record best month so far in '21
Posted on April 07, 2021
Building permit values in Windsor rebounded in March to their highest levels so far in 2021, but are still well short of the construction activity recorded through the first three months of 2020.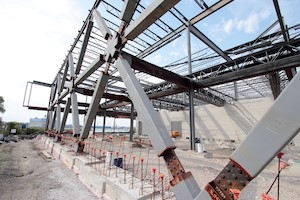 The most recent report from the City of Windsor's Building Department shows total permits of $26.4 million issued for March 2021. That's slightly less than the $27.6 million worth of permits issued in March 2020, but about $10 million higher than the value of permits issued in February of this year.
The city issued 264 permits for the month. Of those, 220 were issued for work in the residential sector. Permit totals in that sector reached $20.7 million. Thirty-three permits were issued for work in the commercial sector, for a total of $2.6 million worth of work. The government and institutional sector, meanwhile, saw nine permits worth a combined $2.7 million, and the industrial sector just two permits for a total value of $412,000.
Residential permit values are more or less on par with those issued in March 2020, while the value of government and institutional permits was significantly higher (up $2 million) than at the same time last year. By contrast, builders took out $1.4 million less in commercial permits, and about $800,000 less in industrial permits.
The city issued two large-value permits in March. The first, for $2.2 million, was issued for the construction of a 12-unit residential building at 781 Erie Street East. The site was once the location of a café, but that business burned down in 2015 under what investigators then judged to be suspicious circumstances. Replacing it is a four-storey mixed-use development.
Also approved for construction in March was a series of alterations to a laboratory at the Ouellette Campus of the Windsor Regional Hospital. That work is valued at $1.8 million.
Compared with the first three months of 2020, permit values are down significantly this year.
Through the end of March 2020, builders had taken out $85 million worth of permits; through the same time this year, just $68 million have been issued. Where activity in the residential sector is more or less on par with 2020's totals, the value of construction in the institutional sector has increased by about $7 million. The value of permits issued for government and institutional work, however, has dropped by more than $24 million through the first three months of 2021.