Breaking: Non-essential construction ordered closed
Posted on January 12, 2021
As part of Ontario's latest efforts to control the spread of COVID-19, the province announced on January 12 that all non-essential construction would be shut down.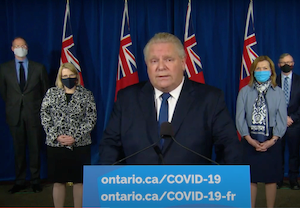 The closure is part of a series of new measures announced by Premier Doug Ford in response to the resurgence of the pandemic. Cases of the coronavirus and hospitalizations have reached an all-time high.
These and other measures come into effect just after midnight on January 14, and are expected to last 28 days. Companies are expected to relocate employees to home offices.
"Everyone must stay home and only go out for essential trips and only go out to pick-up groceries or go to medical appointments," said Ford. "Folks, there will soon be some really dark days ahead and some turbulent waters, but we will get through this."
The province has provided an updated list of essential construction projects. It includes work on projects such as health care facilities, long-term care facilities, schools, industrial construction, and critical infrastructure such as transit projects, as well as residential construction.
"I know a stay-at-home order is a drastic measure," Ford said. "My friends, this situation is extremely serious, I can't stress that enough."
On those jobsites where work is allowed to continue, contractors may see an increase in inspection activity from the Ministry of Labour, Training and Skills Development.
The ministry announced the roll-out of its Stay Safe All Day campaign, which will focus workplace inspections in areas of high transmission, such as break rooms, and provide new educational materials to employers to promote safe behaviour before, during and after work.
The province is quick to point out that its workplace inspections show the vast majority of workers and employers are following COVID-19 safety requirements when working. However, during at-work down time—such as in break rooms and in vehicles—workers are more likely to remove their masks or forget physical distancing requirements and hand hygiene.
Through the Stay Safe All Day campaign, inspectors will use a data-driven approach to focus on workplaces with reported COVID-19 outbreaks, manufacturing businesses, warehouses, distribution centres, food processing operations, construction projects and publicly accessible workplaces deemed essential, such as grocery stores.
"We know the majority of businesses are operating safely and responsibly to protect their workers and customers. But as COVID-19 cases continue to rise, we all need to step up and take additional measures to stop the spread," said minister Monte McNaughton. "This includes increasing our inspections to look at everything workers do both while on the job and throughout the workday." 
The latest data suggests that as many as one-third of Ontarians are not following public-health guidelines to control the spread of COVID-19.
"Without significant reductions in contacts, the health system will be overwhelmed and mortality will exceed the first wave totals before a vaccine has time to take effect," said Dr. Adalsteinn Brown, co-chair of the Ontario COVID-19 Science Advisory Table. "Our actions are key to controlling the spread of the disease."