Construction sheds 2,900 jobs in December
Posted on January 12, 2021
Canada's labour force lost 63,000 jobs in December—the first decline in employment since April, and a drop of 0.3 percent over the month previous.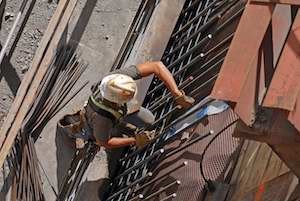 Employment fell in those industries that were most directly affected by new and continuing public health measures, including accommodation and food services; "other services"; and information, culture and recreation.
Specifically, employment in the services-producing sector fell by 74,000 (-0.5 percent) in December—the first decline in the sector since April. Employment in accommodation and food services fell by 57,000 (-5.8 percent) for the third consecutive month, while employment in information, culture and recreation fell by 19,000 (-2.7 percent) in December, as some provinces tightened public health measures at gyms, theaters and other businesses where it is difficult to maintain social distance. 
Manufacturing employment, meanwhile, rose by 15,000 (0.9 percent), driven by an increase in Ontario. Construction employment lost 2,900 jobs. For the entire year, industry employment is down 80,000 jobs, or 5.4 percent. Construction has been one of the hardest-hit industries, and the threat of a partial industry closure in Ontario only leaves the industry in a more precarious position.
Month-over-month employment in the industry dropped by 4 percent—to 1.386 million—December. Compared with December 2019, industry employment is down by 86,300 workers (-6 percent), a fact that reflects softening demand in some provinces.
Employment growth stalls in Ontario
Employment in Ontario, meanwhile, was little changed in December. This follows monthly growth averaging 2.2 percent from June to November. The unemployment rate rose 0.4 percentage points to 9.5 percent as more people looked for work. Employment losses were greatest in the accommodation and food services industry (-5.9 percent), while more people were working in manufacturing (+2.1 percent).
Construction employment dropped by 3 percent in December, and 2 percent compared with December 2019. The industry's labour force fell by just 0.1 percent for all of 2020.
"Employment in Ontario decreased by 11,900 in December," said Vic Fedeli, Ontario's Minister of Economic Development, Job Creation and Trade. "Despite this decrease, employment in the manufacturing sector increased by 16,400. In the last seven months, Ontario's employment increased by 893,300. Today, 29,600 more men and women are working in the manufacturing sector than pre-COVID."
By April, the initial widespread COVID-19 economic shutdown had directly affected 5.5 million Canadian workers, including 3 million who had lost their jobs and 2.5 million who were employed but had experienced COVID-related absences from work. By December, that figure had bounced back to 1.1 million, including a 636,000 drop in employment since February and 488,000 more Canadians who were employed but working less than half their usual hours for reasons likely related to COVID.
Liam Daly, an economist with the Conference Board of Canada, suggests that the employment market may weaken even further in early 2021.
"Rising COVID-19 cases through the late fall and into winter led to shutdowns across the country, which weighed on employment growth," he said. "In all, employment fell by 62,600 in December, the first decline in employment since April. With restrictions remaining in place or even being tightened into 2021, employment growth is likely to decline further in January and remain weak in the first half of the year."