$36M allocated for Tamil Community Centre
Posted on July 20, 2021
The federal and provincial governments have announced funding of nearly $36 million to support construction of a Tamil Community Centre in Scarborough.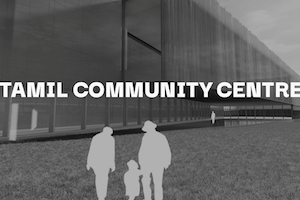 The project will see the construction of a multi-purpose facility for the Greater Toronto Area's Tamil community of approximately 122,000.
A gym and outdoor playing fields will improve access to recreational opportunities for the community, while a new library, museum, auditorium and multi-purpose spaces will help facilitate educational and cultural opportunities and events. The project is valued at approximately $40 million, and is expected to span 37,000 square feet.
The project has been in the planning stages since 2019.
"In partnership with the federal, provincial, and municipal governments, the Tamil Community Centre project will help address the gap in services available to the Tamil community in northeast Scarborough," said Siva Vimalachandran, Chair of the Board of Directors of the Tamil Community Centre. "The Tamil Community Centre will also streamline services to the communities living in the neighbourhood, including Indigenous, Black, and Caribbean and other racialized communities. The Tamil Community Centre will improve the quality of life for all Scarborough residents through providing much needed recreational space and programming in priority areas like mental health services, senior services and LGBTQ inclusion."
The Government of Canada is investing over $14.3 million in the project through the Community, Culture and Recreation Infrastructure Stream of the Investing in Canada plan. The Government of Ontario is providing more than $11.9 million, and the Tamil Community Centre is contributing over $9.6 million.
The City of Toronto has contributed land valued at $25 million to the project in the form of a long-term land lease at a minimal cost of $1 plus HST in annual rent.
Featured image: Visualization of the Tamil Community Centre. (Facebook)