$6.6M announced for northern Ontario infrastructure projects
Posted on July 20, 2021
The federal and provincial government have announced an investment of $6.6 million in a series of recreational and community infrastructure projects across Northwestern Ontario.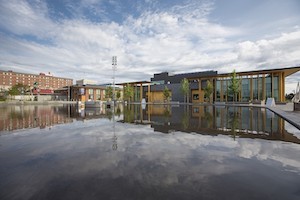 One of the announced projects includes upgrades to Prince Arthur's Landing Festival Area along the City of Thunder Bay's waterfront. The project, which is valued at approximately $5 million, involves reorienting the stage and viewing area to improve the spectator and performer experience, upgrades to the electrical and backstage infrastructure for event and concert hosting, and health and safety improvements for employees, performers and spectators. This work will improve community access to a safe and renovated venue that residents will be able to enjoy for years to come. 
"Infrastructure upgrades to the festival area at Prince Arthur's Landing will help to make this premier local destination an even more attractive celebration space in our community," Thunder Bay Mayor Bill Mauro. "Thanks to the funding from Infrastructure Canada we are able to enhance our waterfront concert experience and look forward to our post-pandemic concerts once again filling the waterfront with people and live entertainment."
In Red Rock, $2 million in funding will support the rehabilitation of the Red Rock Recreation Centre. The project includes new siding, replacing the roof, header and liner systems, flooring in the seniors' room, bowling lanes, and the floor and ventilation system in the gymnasium. Other upgrades include the installation of five new accessible doors, a new furnace and ductwork to heat change rooms, and the addition of a new pool system and liner. Once completed, this work will improve the facility's energy efficiency and provide the community with access to a more modern and reliable recreation centre. 
In Canton de Sioux Narrows – Nestor Falls, construction work is planned for a four-season multi-use outdoor recreation facility which will serve as an enclosed ice rink in the winter months, and as a basketball court and four pickle ball courts in the summer months. That project is valued at a little more than $1 million.
Other projects see rehabilitation and renovation work at the Centre Francophone in Thunder Bay, replacement and upgrades to the Nipigon Swimming Pool mechanical systems and upgrades to the heating systems at the Nipigon Community Centre, and the expansion of the fitness centre in the Township of Schreiber.
The Government of Canada is investing more than $3.6 million in these projects through the Community, Culture, and Recreation Stream of the Investing in Canada plan. The Government of Ontario is providing over $3 million, while recipients are investing over $2.4 million in their respective projects. 
Featured image: Prince Arthur's Landing in Thunder Bay. (Explore Northwest Ontario)