City, architects release design concepts for Sudbury's Junction East project
Posted on July 21, 2021
The City of Greater Sudbury in conjunction with designers WZMH Architects have released design plans for the Junction East project.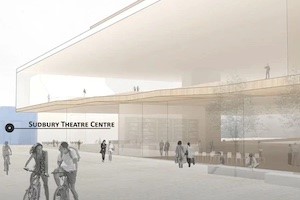 The 62,000-square foot building in downtown Sudbury is proposed to include a new central library, the Art Gallery of Sudbury, and potential future partners, the Sudbury Theatre Centre, and the Sudbury Multicultural and Folk Arts Association.
The design of the facility was based on an extensive engagement campaign by the city and the designers that included feedback from the community and key stakeholders.
Scheduled for completion in 2024, the facility is planned to be located on the east side of Shaughnessy Street, but the project has run into difficulties since it was first proposed. In 2018, staff estimated the project would cost around $46.5 million to build. Last week, a staff report to council projected the cost would increase by 21 percent due in part to soaring construction prices, and changes to the building's footprint.
The city and the designers have opened a virtual open house for the design plans. That event occurs on July 21. The community can also view and provide feedback on the design through July 30.
Sudbury is also considering a companion Junction West project that, if built, would include event space to attract large-scale conventions and trade shows, arts/culture performances, and
meetings and community celebrations. The facility is proposed to be a 60,500-square foot building with 19,500 square feet of rentable space, and 13,000 square feet of free span main plenary that can host more than 850 delegates.
Development of the west facility is still very much in the early stages.
Featured image: A rendering of the Junction East project. (YouTube)