Construction price increases hit record highs in Q2
Posted on July 29, 2021
Construction price indices grew at some of the fastest rates on record in the second quarter of 2021, Statistics Canada reports.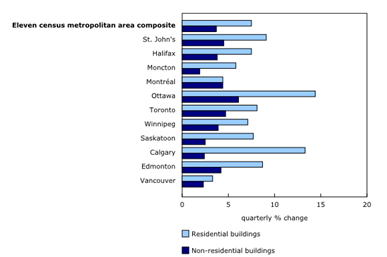 The national agency's latest look at construction prices shows growth of 7.5 percent in the residential sector for the period of April to June, and of 3.7 percent in the non-residential sector. Those rates were the highest-ever recorded for the residential sector, and the highest in the non-residential sector since 2008.
Construction costs for single-detached houses and apartment buildings contributed the most to the residential building construction price growth in the second quarter. The price increase for non-residential construction was mostly attributable to office buildings, warehouses and shopping centres.
Higher residential building construction prices in the second quarter were largely due to record high lumber and wood product prices, which increased by 27.9 percent from the first to the second quarter of 2021. The surge was due to ongoing supply chain constraints, combined with high demand for new houses and renovations in the wake of changing preferences for more space during the pandemic, as well as low interest rates. The supply chain constraints included ongoing operational delays at sawmills, as well as transportation difficulties.
Residential building construction prices rose in every census metropolitan area covered by the survey, mainly driven by higher costs to build single-detached houses in Toronto, Calgary and Ottawa.
Non-residential building construction price increases, meanwhile, were driven by higher construction costs in Toronto, Vancouver and Montreal. Demand for warehouse space continued to climb with retail e-commerce sales increasing by 4.8 percent from February to May. This increased demand, combined with supply shortages, particularly of concrete and structural steel, raised costs for non-residential construction in the second quarter.
Nationally, residential construction building prices increased 18.8 percent year over year in the second quarter—the largest increase since the data series began in 2017—led by higher construction costs for single-detached houses (+23.9 percent). Construction costs for residential buildings rose at the fastest pace in Calgary (+31.4 percent), Ottawa (+28.4 percent), as well as in Toronto and Edmonton (both up 22.4 percent) in the second quarter.
Non-residential construction building prices rose 5.7 percent year over year—the largest increase since the fourth quarter of 2008, led by Ottawa (+10.1 percent), Montréal (+8.4 percent) and Toronto (+7.7 percent).