Governments invest $500M in Hamilton transit projects
Posted on July 21, 2021
More than $500 million in combined funding from all three levels of government will go to support seven public-transit projects in Hamilton.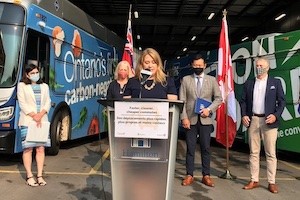 The federal, provincial and city governments announced the funding on July 19. The Government of Canada is investing over $201.8 million in the projects through the Public Transit Infrastructure Stream of the Investing in Canada infrastructure program. The Government of Ontario is providing more than $168.2 million, and the City of Hamilton is contributing over $148.8 million to these projects.
Valued at more than $260 million, the largest of the projects sees the construction of a 60,000-square metre public transit maintenance and storage facility. The building will include a 30-bus maintenance area, two indoor compressed natural gas fueling lanes, two bus wash rack systems, storage for 200 conventional size buses, approximately 4,000 square metres of administration space, and a four-level parking structure.
Once completed, the new facility will improve the capacity of public transit infrastructure in the city and improve the quality and safety of the existing and future transit system.
"This funding, along with the federal government's previously announced support for Hamilton's LRT project, together represent an historic, generational investment in transit in Hamilton," said Hamilton Mayor Fred Eisenberger. "This will allow us to expand transit like never before, making it faster, more affordable, more reliable and more convenient. This in turn will attract more riders than ever before, which in turn makes roads less congested and is good for the environment."
A second project, valued at about $39 million, calls for the replacement of a rail bridge, the completion of associated road work, and the construction of a salt-management facility. The scope of work includes the replacement of Birch Avenue bridge, the reconstruction of 800 metres of road, the installation of a storm water pump station and applicable pipe reconfiguration to manage road drainage, the installation of approximately 97 metres of the water main, and the construction of a salt management facility.
A third project calls for construction of an active transportation bridge of approximately 185 metres, 1.4 kilometres of new bike paths, 420 metres of upgraded bike paths, 3.4 kilometres of new multi-use connections to transit, and up to 500 new bike parking spaces. The project also includes 30 new bike-share stations, repairs to existing damaged bike-share stations, and approximately 17.8 kilometres of new sidewalks. That work is valued at a little more than $9 million.
Additional projects call for improvements to the city's bus transit network and upgrades to the City's 16 km-long A-Line rapid transit corridor will result in a faster and more reliable public transit experience. The upgrades involve the construction of five new queue jump lines and 17 km of new sidewalks along 12 different segments of rapid transit roadway, the implementation of transit signal priority measures at various intersections, and improvements to approximately 19 transit stops along the corridor.
The city will also use $114 million in funding to replace conventional buses in its transit fleet.
Featured image: Hamilton transit director Maureen Cosyn Heath. (City of Hamilton)