$115M invested in GTHA infrastructure
Posted on June 10, 2021
The federal and provincial governments have announced an investment of more than $115 million to support infrastructure projects in 30 municipalities across the Greater Toronto and Hamilton Area (GTHA).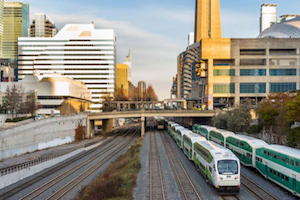 The majority of funding will support the rehabilitation of active transit infrastructure, the development of modern and accessible recreational options, and upgrades and replacement of equipment in health and emergency facilities in communities across the GTHA.
Additional investments will support increased options for active transportation, and the renovation of municipal buildings, community centres and cultural facilities. These improvements will provide safe and inclusive spaces for residents across the GTHA.
The City of Mississauga will receive the largest share of the funding at $22.1 million, with the City of Toronto receiving a little over $18 million. Vaughan and Brampton will receive $15.1 and $11.7 million, respectively.
The Government of Canada is contributing $92.1 million to the projects through the COVID-19 Resilience Infrastructure Stream of the Investing in Canada Infrastructure Program. The Government of Ontario is contributing more than $23 million.
"Across the Greater Toronto and Hamilton Area we're investing over $92 million to support municipalities with better ventilation in building such a as shelters, improved accessibility, sidewalk upgrades and new bike lanes, to improve safety and access for residents now and in the future," said Federal Infrastructure Minister Catherine McKenna.
"We are supporting vital infrastructure projects in the Greater Toronto Area in places like Oakville, Burlington, Milton, Mississauga, and Durham that protect people's health and well-being while contributing to the province's economic recovery," added Oakville MPP Stephen Crawford.
Under the COVID-19 Resilience Infrastructure Stream, more than $3 billion is available to provide provinces and territories with added flexibility to fund quick-start, short term projects. The federal government will contribute up to 80 percent of eligible project costs, with the province contributing the remainder of the funding.
The COVID-19 Resilience Infrastructure Stream funding stream guarantees at least $100,000 to each of the province's 444 municipalities. Additional funding has been allocated to municipalities based on a variety of factors, including the value of infrastructure and median household income in each municipality.