Construction investment in April falls just short of $20B
Posted on June 11, 2021
Total investment in building construction fell just short of $20 billion in April, after yet another strong performance in the housing sector.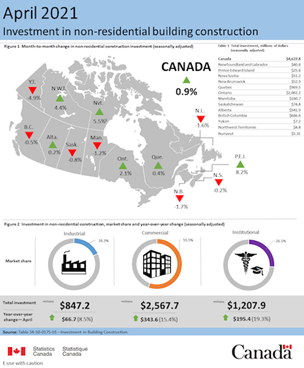 The value of country-wide construction investment rose 6.3 percent for the month to $19.9 billion—another record. Both the residential and non-residential sectors reported gains, with the former recording its 12th straight month of growth. Housing investment rose by 8.1 percent to $15.3 billion, while the non-residential sector picked up 0.9 percent growth. Investment in the non-residential sector remains below pre-COVID levels.
On the housing side, investment in single-family homes was up 8.9 percent. Ontario accounted for the majority of the growth (+12.8 percent), driven by renovation projects in Toronto and new construction in Hamilton. Prince Edward Island reached a record high in this component, surging 84 percent to $101 million, mainly attributable to renovation projects in the province.
Multi-unit construction rose 7.2 percent to $6.7 billion. Quebec posted the largest increase, with high-value projects such as an apartment building in the city of Lévis contributing to its 12.0 percent jump to $1.8 billion. British Columbia also reported notable growth, up 8.2 percent to $1.3 billion.
Non-residential construction investment, meanwhile, rose to $4.6 billion. April was the fifth month in a row in which the sector posted a small gain.
Investment in institutional construction was up 1.4 percent to $1.2 billion. The largest increase was reported in Ontario (+2.7 percent), thanks in part to work on the Michael Garron hospital in Toronto.
Industrial construction investment rose 1.8 percent to $847 million, with the help of major ongoing construction projects in the cities of Toronto and Montréal.
Finally, five provinces posted increases in commercial investment, edging up 0.3 percent in April. Only Ontario and Prince Edward Island have exceeded pre-pandemic levels, with Prince Edward Island reaching a record high.