Muskoka Cabinet Company receives $625K manufacturing boost
Posted on June 15, 2021
An Eastern-Ontario cabinet maker has received $625,000 in funding from the federal government to scale up its operations.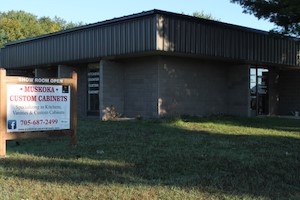 Muskoka Cabinet Company, which is located about an hour east of Ottawa in Alfred, is a manufacturer of residential cabinetry. The company has introduced first-in-Canada technologies including a proprietary enterprise resource planning software to manage its production environment, as well as introducing green materials with low or no volatile organic compounds emissions in its products.
The money invested in the company from FedDev Ontario will allow Muskoka to adopt a new panel finishing line. The line will help the company increase its productivity by 50 percent and support its overall competitiveness. The company will also use the funding to create seven new full-time jobs.
"Funding like this from FedDev Ontario has allowed Muskoka to push the limits of technology otherwise unafforded by companies our size," said company President and CEO Luke Elias. "I attribute our success to having many key partners internally and externally. Not only will this funding create new jobs, but advancing technology always creates better, higher paying jobs."
Since 2015, FedDev Ontario has invested over $567 million in more than 260 projects in both the advanced manufacturing and manufacturing sectors, and over $44 million in more than 100 projects in official language minority communities.
"This investment in Muskoka Cabinet Company enables the company to grow, and strengthens the community," said Mélanie Joly, Minister responsible for the FedDev Ontario. "Manufacturing is a cornerstone of Canada's economy and we are here to help this sector thrive in a post-pandemic Canada."