RFQ issued for Highway 3 expansion
Posted on June 15, 2021
Infrastructure Ontario (IO) and the Ministry of Transportation have released a request for qualifications for work on the Highway 3 expansion project in Essex County.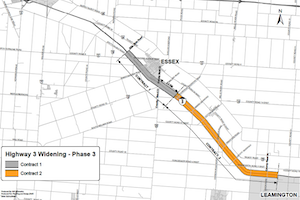 The work, which will proceed under a public-private partnership (P3) arrangement, calls for widening a stretch of road of approximately 16 kilometres from two to four lanes between Essex and Leamington.
The scope of work also calls for drainage improvements including the extension of six mainline structural culverts, the replacement and extension of existing centerline culverts along with the installation of additional culverts for the modifications to the local road network, the realignment and intersection removals of several local roads on Highway 3, and the reconstruction/resurfacing of existing lanes on Highway 3.  
The road, says IO, is a critical highway that provides regional and international connectivity. 
The final cost of the project won't be determined until much later in the procurement process, but the most recent P3 Market Update issued by IO last week suggests the project is worth less than $200 million.
Contractors can download the RFP document from Merx, and have until early August to respond.
Teams that qualify will be invited to respond to a formal request for proposals this fall 2021.