Third wave plays havoc with employment
Posted on June 07, 2021
Statistics Canada's Labour Force Survey report for May shows national employment dropped by 68,000 in the month. This follows a decline of 207,000 jobs in April. The unemployment rate was little changed at 8.2 percent.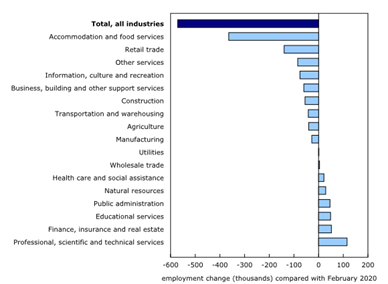 The agency conducted its survey during the week of May 9 to 15, at a time when many provinces had lockdown measures in effect to control the third wave of the COVID pandemic.
In Ontario, for example, a stay-at-home order implemented on April 8 continued, affecting many non-essential businesses. Remote schooling, which began following the April spring break, also continued across the province. Similar measures were in effect in Alberta, Manitoba, and Nova Scotia.
In addition to the employment declines, the number of employed people working less than half their usual hours increased for a second consecutive month, rising by 83,000 (+6.1 percent). Total hours worked were virtually unchanged in the month, but remained 3.8 percent below pre-pandemic levels.
In May, total employment in the goods-producing sector decreased for the first time since April 2020, with notable declines in manufacturing (-36,000). Construction employment fell by 16,000 (1.1 percent), driven by declines in Ontario, where public health restrictions affecting non-essential construction were implemented on April 17. The decrease brought the number of workers in construction down to 3.7 percent (-55,000) below pre-COVID levels.
Ontario employment drops 32,000
Stringent public health measures and a stay-at-home order remained in place in Ontario during the LFS reference week, while Nova Scotia had entered a lockdown at the end of April. Combined, these two provinces accounted for most of the overall employment decline in May. Employment increased in Saskatchewan, while there was little change in all other provinces.
Following a substantial decline in April (-153,000; -2.1 percent), employment in Ontario edged down (-32,000; -0.4 percent) in May as public health restrictions continued.
The largest declines were in retail trade and information, culture and recreation, while more people worked in a number of other services-producing industries (including accommodation and food services). Declines were also seen in manufacturing and construction.
Ontario's employment rate was 58.3 percent in May, down 3.3 percentage points from February 2020, tied with Nova Scotia for the largest gap among provinces. The unemployment rate, meanwhile, rose 0.3 percentage points in May to 9.3 percent.