Windsor permit values stay high
Posted on June 09, 2021
Construction activity in Windsor was strong again in May.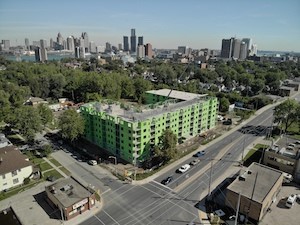 In its monthly building permit report, the City of Windsor lists more than $44 million worth of permits issued for the month. Although that figure is down from the $52 million worth of activity recorded in April, it remains high.
The residential sector was the busiest—by dollar value and number of permits issued for the month. The city issued 241 housing permits for the month worth a total of $18.4 million. That dollar value was $5 million lower than the $23 million worth of residential permits issued in May 2020.
Work in the government and institutional sector was also strong in May. The sector recorded nearly $17.7 million worth of activity, bolstered largely by a permit worth nearly $11 million for construction of the Parkview Public school on Stillmeadow Road. In May 2020, the city issued just $733,000 worth of government and institutional permits—a fact that was largely driven by the initial COVID-19 lockdown.
May's performances in the commercial ($3 million) and industrial ($5 million) sectors were also higher than totals recorded last year.
The largest-value permit issued by the city in May was the $11-million permit for Parkview Public School. The city issued three other million-dollar plus permits. One, for $5 million, was issued for addition and interior alterations at the Ford engine plant on Metcalfe Road. Another, worth $2.5 million, was issued for a 3,000-square metre greenhouse building at Jackson Park. The city issued the third, worth $1.3 million, for work on a residential property.
For the year to date, the City of Windsor has issued more than $164.3 million worth of building permits, including $92 million in residential permits, and $46.7 million worth of permits in the government and institutional sector.
The year-to-date total for 2021 is now 13 percent ahead of 2020's pace.