Bird to build Thunder Bay, Kenora jails
Posted on March 05, 2021
The Ontario government announced on March 4 that it has selected Bird Construction to perform work on two correctional facilities in the province's north.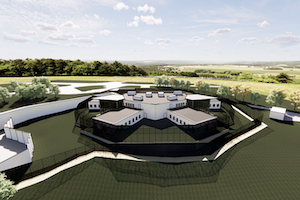 Expansion projects at the Thunder Bay Correctional Centre and Kenora Jail have been designed to improve the safety of staff and inmates and expand access to programming and services. The work will also help address overcrowding in Kenora and Thunder Bay ahead of construction of the new, 325-bed Thunder Bay Correctional Complex.
"Our government continues to take action to enhance the safety of frontline staff while working to improve programming for inmates, including supports specifically tailored to Indigenous individuals," said Solicitor General Sylvia Jones. "We remain committed to working with frontline staff and our justice partners to strengthen our corrections system and public safety in the North."
Bird Construction will start work on the projects in April, with a targeted completion date of next spring.
The projects, which were announced in October 2020, build on other public safety initiatives designed to create a culturally relevant and responsive justice system in Ontario. The projects are also part of the government's strategy to invest more than $500 million over five years to transform correctional services and improve health and safety through new hiring and infrastructure improvements.
"This is a key milestone in the expansion projects for the Kenora and Thunder Bay jails and an important step as we move these projects forward on an expedited timeline," said Greg Rickford, MPP, Kenora-Rainy River, Minister of Energy, Northern Development and Mines, Minister of Indigenous Affairs. "The expansion of both sites will ensure Northwestern Ontario's justice system is equipped with safe and modern facilities that are responsive to the needs of Indigenous people and communities here in the Northwest."
Details of the projects were not released, but the government indicated the structures will help address overcrowding during construction of the new Thunder Bay Correctional Complex, and allow for increased access to literacy, skills development and technology programs that support safe community reintegration.
Indigenous leadership and organizations will have input into the design of the new spaces and other culturally appropriate aspects of the facilities.
"These are much-needed improvements and we acknowledge the Solicitor General's commitment to improving living conditions and providing more culturally relevant and inclusive supports for inmates," said Grand Chief Alvin Fiddler. "It is vital that Indigenous inmates remain connected to their culture as Ontario works to provide long-term solutions for these facilities. This modular infrastructure will help alleviate pressures from overcrowding and we welcome these interim improvements for the safety of inmates in Kenora and Thunder Bay."