Budget includes funding for two-way, all-day GO service
Posted on March 26, 2021
Plans to develop two-way, all-day GO Train service between Toronto and Kitchener received a major boost in Ontario's 2021 budget.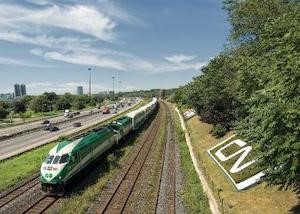 On March 24, the province revealed a significant package of infrastructure works—including new tracks and platforms—along the Guelph subdivision from Georgetown to Kitchener. The improvements will increase capacity on the line for more trains to travel both ways from end to end of the Toronto-Waterloo Innovation Corridor.
The upgrades, says the Region of Waterloo, are the most significant step taken by the Government of Ontario towards making fast, frequent, two-way all day GO train service along the corridor a reality by 2025.
"By continuing to advance two-way all day GO service along the Kitchener Line, the Ontario government is demonstrating its confidence in Waterloo Region as one of our province's key economic engines," said regional chair Karen Redman, for whom two-day, all-day GO service has been a priority. "This is a transformative project. Keeping us well connected ensures that the economic benefits accrued to this region can be shared with the rest of the province."
Work along the corridor is expected to be delivered in three procurement phases. Procurement for the first phase is already underway with construction targeted for the fall. Procurement for phases two and three will start in 2021 and 2023.
"This project is expected to increase ridership, generate travel time savings and reduce automobile usage," read a release from the province. "It will also connect more people to jobs and improve passenger experience while increasing access to Ontario's fastest growing urban areas along the Toronto-Waterloo Innovation Corridor and beyond."
The Region of Waterloo says that its continued local economic recovery depends on a commitment to advancing priority transit projects—of which two-way all-day GO Transit is the pillar. The future King Victoria Transit Hub and the development of Breslau Go Station are essential elements needed to support the service.
The Toronto-Waterloo Innovation Corridor is home to six million people and generates 17 percent of Canada's GDP. The corridor is home to 15,000 tech companies and one of the world's most sophisticated financial sectors.