Canadian Canoe Museum design plans revealed
Posted on May 04, 2021
Staff from the Canadian Canoe Museum (CCM) and designers Lett Architects revealed plans for construction of a new facility for the Peterborough institution last week.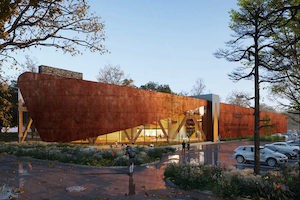 The museum hosts more than 600 canoes, kayaks and paddled watercraft—the largest such collection in the world. As part of its responsibility for this cultural asset, the museum commissioned a new home for the collection.
The site chosen for the building is at 2077 Ashburnham Drive in Peterborough—a site known as the Johnson Property, and located adjacent to Little Lake. The planned two-storey, 65,000-square foot building will be a purpose-built facility that includes an integrated collection storage centre allowing for the display of the museum's entire collection, a 17,000-square foot exhibition hall, a lakefront events and education centre, an accessible library and research room with Class A archival storage, and a canoe house with docks.
"The new facility will be a community gathering space where the stories behind these amazing artifacts can be told," said Michael Gallant, design principal of Lett Architects. "The building is sited along the shores of Little Lake in Peterborough, Ontario, and will provide the opportunity for expanded on-water programming for the museum. The design enables the activity within, while taking inspiration from the craftsmanship and artistry of the collection."
"We are thrilled to have advanced our project to this key milestone so early in the year," said Carolyn Hyslop, the museum's executive director. "Our new museum design and stewardship approach takes full advantage of its on-water location and nestles seamlessly into the natural surrounding area of the Johnson Property."
Peterborough City Council agreed to sell the land to the museum in January, subject to a number of conditions, including rezoning. CCM will pay about $1.6 million for the five-acre site, with the transaction expected to be completed by the summer.
Construction of the building should begin this fall, with an opening date planned for the summer of 2023. Hyslop says the total cost for the building is in the range of $40 million. CCM has already collected funding commitments of $9 million from the province, $1.4 million from the federal government, and $7.5 million from the W. Garfield Weston Foundation.
Lett Architects' managing principal Bill Lett says the designers plan to adopt an integrated project delivery approach to construction.
"In a typical project, we start by developing what we are going to design and build, and typically that only involves the owner and the architect," Lett said. "Later on we look at the how and the who, adding players as we go. Things are very different in this process."
"We talk about what we're going to build, how we're going to build it, and who is going to build it from the very beginning of the project. We have all the stakeholders on board right from the start. That makes this type of approach fundamentally different than a typical approach that we might take. The early engagement of trade partners, designers, owners, and contractors provides the opportunity for a much deeper level of collaboration."