Innovation Corridor gets green light for all-day GO service
Posted on May 03, 2021
All-day, two-way GO Train service between Kitchener and Toronto got a major shot in the arm on April 30 with two key developments.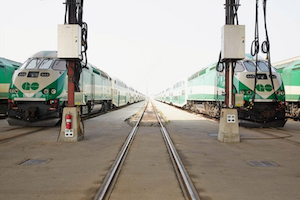 The province and Metrolinx released a preliminary design business case for the project that confirms the value of the service and highlights its benefits. The organizations also released a request for qualifications (RFQ) to add new station platforms and make track upgrades to ensure infrastructure is in place to support the service.
"Our government is taking action to deliver significant advancements to GO service between Toronto and Kitchener that will bring more trips at every point along the line," said Transportation Minister Caroline Mulroney. "This project will help build fast, frequent and reliable transit that will better support families and businesses along the entire corridor."
The preliminary design business case highlights a number of benefits of the expanded service, including travel time savings of as much as 20 minutes for riders traveling between the Kitchener GO station and Toronto's Union Station, and train service every 15 minutes on core segments.
The Kitchener line is projected to have 39,000 jobs and an estimated 54,000 residents living within approximately 10 minutes' walk away from a station with two-way, all-day service. By 2041, the service is forecasted to attract between 10.9 million to 11 million annual boardings, and reduce annual vehicle kilometres travelled by 16.2 million kilometres.
The Kitchener line is the backbone of the Toronto-Waterloo Innovation corridor, a stretch of the province that is home to more than six million people, and generates 17 percent of the country's GDP. Waterloo's already-powerful base of technology companies could strengthen even further with regular, reliable, every-day commuter train service between the cities. So too could businesses located in other cities along the line, including Mississauga, Brampton and Georgetown.
A Connect the Corridor movement launched in 2018 with the goal of realizing GO train service between the cities. Supporters of the movement hailed the announcement.
Waterloo Region chair Karen Redman called the announcement, "a vote of confidence in the people of Waterloo Region" while Ian McLean of the Greater Kitchener Waterloo Chamber of Commerce called it a "game changer."
"This will be huge benefit to communities along the innovation corridor," he added.
"We are making great headway in our long-standing goal to better connect the thriving businesses and residential communities between Kitchener-Waterloo and Toronto," said Kinga Surma, Associate Minister of Transportation (GTA). "By building this major transit project, our government is increasing the reliability of transit, reducing congestion and commute times while also supporting the growth of communities."
In addition to releasing the preliminary design business case, Metrolinx also issued an RFQ to move ahead with procurement for improved infrastructure between Georgetown and Kitchener.
The RFQ package calls for infrastructure improvements at Acton GO Station and Guelph Central Station that will help enable two-way train service, new maintenance of tracks, other track upgrades that will allow for higher train speeds. Funding for that work was announced in the province's March budget.
The province has also recently completed significant work on the Kitchener GO Rail line with the complete excavation of the twin tunnels under Highways 401 and 409 to increase train capacity on the corridor and continues to work closely with CN Rail to increase GO Train service for two-way, all-day service.