Bruce Power issues $500M Green Bond
Posted on November 24, 2021
Bruce Power has issued $500 million worth of green bonds—the world's first for the nuclear power industry.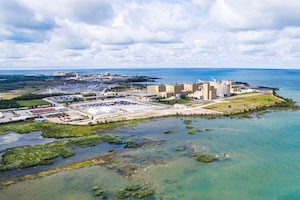 The move comes at a time when the electricity operator is enhancing its reputation as a provider of clean power to Ontario's grid.
Clean nuclear power is crucial to fighting climate change, and today's announcement marks another industry-leading step in the company's environmental, social and governance strategy," said president and CEO Mike Rencheck. "One of the largest greenhouse gas emission reduction initiatives in the world was the phase-out of coal-fired electricity in Ontario, and Bruce Power was at the heart of making this a reality by providing 70 percent of the energy the province needed to achieve this goal."
The launch of the bond was made possible in part by Bruce Power's track record of delivering emission reduction projects and its leadership in environmental stewardship. The organization has committed to be net carbon zero by 2027.
It intends to use the proceeds from its Green Bond offering in accordance with its Green Financing Framework to finance or re-finance eligible investments associated with life extension and increasing output of existing units.
"A strong nuclear industry is essential to a strong economy in Ontario," said Rocco Rossi, president and CEO of the Ontario Chamber of Commerce. "Ontario's nuclear sector injects billions into the economy every year, providing low-cost, reliable and carbon-free electricity that our businesses need to stay competitive in the world market, and life-saving medical isotopes which are vital resources in the global medical community."
Bruce Power's Green Financing Framework has received a second-party opinion from CICERO Shades of Green, an internationally recognized leading provider of independent review and second-party opinions on Green Bonds and Green Financing Frameworks. The framework earned CICERO Green's overall 'Medium Green' shading on a scale of Light, Medium and Dark. It also received the highest possible governance score of 'Excellent.'
"After structuring our sustainability-linked loan earlier this year and committing to reach Net Zero emissions from site operations by 2027, creating our Green Financing Framework is a meaningful and concrete next step toward ensuring the highest Green standards are reflected in our financing initiatives," said Kevin Kelly, Bruce Power's Executive Vice President, Finance and Chief Financial Officer. "Through this Framework, Bruce Power will continue investing in life extension and increasing the output of our units, which promotes environmental sustainability."
Bruce Power has been able to launch its series of sustainability measures and commitments all while progressing one of Canada's largest infrastructure renewal projects with its decades-long life-extension program.
Featured image: Aerial view of the Bruce Nuclear Generating Station. (Bruce Power)