PCL, Pomerleau collaborate on robotics deployment
Posted on November 25, 2021
PCL Construction and Pomerleau announced the first in what the companies hope will become a regular series of collaborative opportunities on November 17.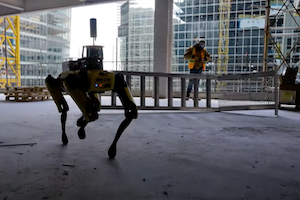 The companies put Spot, the robot dog, to work on PCL's build at 160 Front Street in Toronto. The project calls for the construction of a 46-story structural steel-framed commercial office tower in the downtown core.
Spot is on board to help streamline workflow and enhance safety. The robot has been equipped with a number of technologies, include 360-degree cameras, a 3D laser scanner, and a host of sensors that measure environmental air quality, location data and other information. Those technologies, in turn, feed back into the Job Site Insights smart construction platform that PCL has deployed across a number of its latest projects.
Spot's handlers can use the robot to collect and integrate data from a host of sources onto a single pane of glass. That feedback, in turn, furnishes site personnel with real-time information so that they may immediately respond to changing job site conditions and events, and approach potentially dangerous areas of work with safety and ease.
The robot dog is also equipped with Intel and Microsoft Azure, IoT and edge computing, which includes a ruggedized add-on computer that is powered with artificial intelligence capabilities and processing power to operate the sensors, and any other components Spot carries as part of its regular duties.
"We are very interested to see how Spot performs autonomously and how exactly the data it collects while moving around our job site will complement our daily site tasks at the workface of construction," said John Boktor, PCL's Senior Manager, Digital Construction - Business Technology. "Collaborating with our technology partners and industry peers in an effort to enable technology further and more broadly in our industry is both very exciting and rewarding." 
Spot, which was designed by Boston Dynamics, made its debut on a Pomerleau site in Montreal in 2019. Pomerleau was the first construction company in the world to welcome Spot on its job sites. PCL Construction intends to deploy the robot to more of its sites going forward to further enhance its workflows.
"Sharing what we have learned and our experiences with this technology with PCL and seeing how it can be combined with additional innovations will be an enriching experience," said Eric Lessard, Pomerleau's vice-president of technology and innovation. "We hope this partnership will inspire the industry as a whole to rally, so that advancements in construction can benefit communities and contribute to speeding up economic recovery in months and years to come."
PCL and Pomerleau have published a video profile of their collaboration and their work with Spot on YouTube.
Featured image: Image capture from the Spot profile video published by PCL and Pomerleau. (PCL/Pomerleau)