Three teams shortlisted for Highway 3 RFP
Posted on October 13, 2021
Infrastructure Ontario and the Ministry of Transportation have shortlisted three teams to submit proposals to design, build and finance the Highway 3 Expansion project in the County of Essex.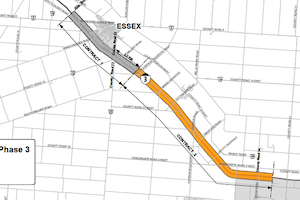 Erie Shores Infrastructure Partners is led by Brennan Infrastructures Inc. & Amico Infrastructures Inc., with construction support from Colas Projects Canada Inc. and design work by Parsons Inc. & EXP Services Inc.
Coco Paving Inc. is led by constructors Coco Paving, with Dillon Consulting Ltd. and Golder Associates Ltd. as prime designers.
Highway 3 Corridor Developers is led by Aecon Infrastructure Management Inc. and Plenary Americas L.P., with design support from Consor Engineers LLC.
The teams will be invited to respond to a request for proposal that is expected to be issued in late fall 2021.
The Highway 3 Expansion project extends 15.6 kilometers, widening the highway from two to four lanes from the Town of Essex to the Town of Leamington (1.2 km east of Essex Road 23 to 1.1 km east of Essex Road 34).
The project scope also calls for drainage improvements—including the extension of six mainline structural culverts, and the replacement/extension of existing centerline culverts along with the installation of additional culverts for the modifications to the local road network—the realignment and intersection removals of several local roads, and the reconstruction and resurfacing of existing lanes on Highway 3.  
The road is a critical highway that provides regional and international connectivity, and the project will improve safety and traffic movement.
The project is being delivered through IO's design, build and finance public-private partnership model.
Feature image: Map of the Highway 3 expansion route. (Infrastructure Ontario)