Windsor permit values push past $50M in September
Posted on October 12, 2021
With work kicking off on a long-awaited—and far-reaching—development project near the WFCU Centre, the total value of construction permits issued by the City of Windsor in September soared to their highest level for the year to date.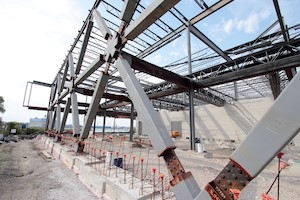 The city issued just shy of $52 million worth of permits for the month. One of those was valued at $12 million and sees the construction of a six-storey, 58-unit condominium building on McHugh Street near the Windsor Spitfires' arena. The development lands are owned by Farhi Holdings, and include plans for 101 single family homes, seven six-storey condominium building with a total of 442 units, and two commercial parcels.
That permit was the third-largest by dollar value issued by the city to date in 2021.
The city also issued a permit worth $9 million for construction of a three-storey, 60-unit multiple dwelling with parking area and site servicing on Meadowbrook Lane.
The $51.9 million worth of permits issued by the city in September were principally driven by work in the residential sector. More than 200 housing permits accounted for $46.8 million worth of the city's monthly total. September's total was also more than double the value of housing permits issued by the city in September 2020.
Activity in the non-residential sector, meanwhile was much lower in the month. The commercial and the government and institutional sectors each recorded just $2.4 million worth of activity, and 13 and six permits respectively. Activity in the industrial sector was almost non-existent. The city issued just one permit in that sector—for $150,000.
All non-residential permit totals were lower last month than in September 2020.
Permit values for the year to date remain well ahead of last year's totals. For the first nine months of the year, the city has issued $325.5 million worth of permits, compared to $298.7 million a year previous. While the value of permits in the industrial and commercial sectors are more or less the same as they were through the first nine months of 2020, the value of government and institutional permits issued this year is nearly $40 million above September 2020's total. The value of housing permits is down $10 million.