Associations launch COVID survey
Posted on September 15, 2021
Eight of the province's largest construction trade associations have joined forces to look deeper into the question of vaccine policies and adoptions across the industry.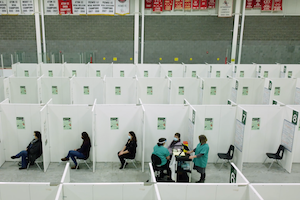 The associations have launched a survey that asks questions about vaccine policies in place at workplaces and on jobsites across the province, and about respondents' attitudes toward vaccines—for themselves and for workers across the industry.
The associations will use the data to adjust their vaccine-promotion efforts.
"The construction industry has been a leader in keeping workers safe from COVID-19 by adopting an all-hands-on-deck approach and implementing a continuous improvement model to COVID health and safety," said Andrew Pariser, vice-president of the Residential Construction Council of Ontario (RESCON). "The health and safety of our workforce has always been the paramount concern. Employers put protocols in place early on in the pandemic and we have consistently worked closely with the government and health and safety agencies to update these procedures, policies and regulations to keep workers safe.
"As a result, our industry remained open and transmission on sites remained low. As we battle the fourth wave, we must focus on making sure that all workers are double-vaccinated because the vaccines work."
The survey has 10 questions and is anonymous.
Those associations sponsoring the survey are RESCON, the Ontario Sewer and Watermain Construction Association, Ontario Residential Council of Construction Associations, Heavy Construction Association of Toronto, Ontario General Contractors Association, Ontario Home Builders' Association, Ontario Road Builders' Association, and Toronto and Area Road Builders Association.