Hamilton makes LRT project all but official
Posted on September 14, 2021
Hamilton's light rail project now seems a certainty to proceed.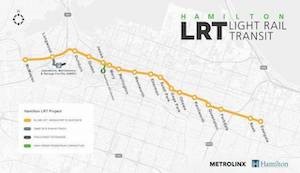 City councillors voted on September 8 to sign a binding agreement with the provincial government and Metrolinx to go ahead with the $3.4-billion project. The decision will be ratified at the next full meeting of council, which is scheduled for September 15.
In a statement, Hamilton Mayor Fred Eisenberger highlighted the outcome as proof positive of how transformative opportunities can come about when all levels of government come together to support a project.
"This historic investment will help support the city's long-term prosperity and growth, while offering a sustainable, rapid transit option to residents and those visiting Hamilton," he said. "The LRT is as much an investment in the City of Hamilton as it is in our people."
Hamilton's light rail project has been a roller coaster issue since it was first imagined in 2007. It looked sure to go ahead in 2015 when the then provincial Liberal government announced it would fund $1 billion of the project value. The project sat dormant for two years before being all but killed in 2019 by the Ford government, which cited the project value at far greater than the money originally budgeted.
In May of this year the project came back to life when the provincial and federal governments each said they would spend $1.7 billion on the works.
"The LRT project is the most studied transit project in our city's history and will bring about a multitude of benefits for everyone in our community," said Eisenberger. "As we bring our attention to post-pandemic efforts to restarting our economy, the LRT will generate thousands of jobs and will keep workers working, it will drive down greenhouse gas emissions and take measure to protect our environment, it will create opportunities for affordable housing along the transit line and it will unlock access and opportunities for local businesses and communities."
The 14-kilometre transit line would offer service at 17 stops between McMaster University in the west end of the city through downtown Hamilton to Eastgate at Centennial Park in Stoney Creek in the east.
It's not yet known when construction will start. The current thinking is in early 2022, with an estimated four-year project timeline. Metrolinx's approach to procurement will see it break up the project into smaller bids. It anticipates that doing so will help make the project more enticing to contractors, given the expected volume of infrastructure spending that is forecast for Canada and the United States in the coming years.