Mobility, program reform top election issues for workers: survey
Posted on September 14, 2021
A new survey of workers in the unionized construction sector across the country found that issues relating to mobility are top of mind for members of the skilled trades heading into next week's federal election.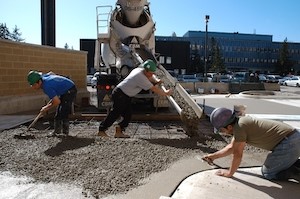 The Workers Rebuilding Canada survey, which was conducted by Abacus Data, asked the opinions of more than 850 workers belonging to unions that are part of the Let's Build Canada alliance. It asked respondents to identify those issues that mattered most to them in the run-up to the election. Issues included travelling for work, the changing nature of the energy sector, and reforms to the Employment Insurance program.
The survey found three-quarters (77 percent) of skilled trades workers have experienced work shortages in their areas. About two-thirds, or 65 percent, reported having to travel more than 150 kilometres away from their permanent residences for work opportunities over the last five years. Workers from across the country, on average, paid over $2,000 in out-of-pocket expenses like gas and accommodations, to travel to job sites. Unlike other professions, skilled trades workers cannot deduct such expenses from their annual incomes.
"Half our members said they have had to decline work opportunities because of out-of-pocket travel-related expenses which can amount to thousands of dollars per year," said Matt Wayland, Director of Let's Build Canada. "This election, we are pleased to see commitments from the major parties to implement policies such as a skilled trades workforce mobility tax deduction or credit."
The survey also found that as Canada moves towards its goal of increasing environmental sustainability and promoting net zero, workers in the oil and gas sector are concerned about their livelihoods. Seven in 10 say they worry that the costs of retraining and upskilling will be too much for them to afford; three in four believe jobs in the renewable sector will not pay as well.
"Building Trades members recognize and support measures to transition Canada to a Net Zero economy and want to play a lead role in building Canada's green future," said Sean Strickland, Executive Director of Canada's Building Trades Unions. "In order to do that, and build back from the pandemic, the next federal government needs to ensure adequate supports are put in place to support skilled trades workers – including transitioning energy workers in the months and years ahead."
Respondents also identified programs and policies that can be improved to better support them. For example, 87 percent agreed that the Employment Insurance program needs improvement; 84 percent said they want to see more community benefits agreements on federal infrastructure projects; and 89 percent want to see more financial support for apprenticeships from the government.
Members of the Let's Build Canada coalition include the International Association of Heat and Frost Insulators and Allied Workers; International Brotherhood of Electrical Workers; International Union of Painters and Allied Trades; Sheet Metal, Air, Rail and Transportation Workers; International Association of Bridge, Structural, Ornamental and Reinforcing Iron Workers; United Association of Journeymen and Apprentices of the Plumbing and Pipefitting Industry of the United States and Canada; and Canada's Building Trades Unions.