Professional engineers must soon participate in mandatory continuing education programs
Posted on April 29, 2022
Beginning in January, Ontario professional engineers will have to participate in mandatory continuing professional development programs to maintain their licences.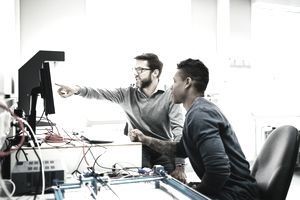 Changes to the Professional Engineers Act made the program mandatory.
The change permits Professional Engineers Ontario (PEO) to impose consequences, such as licence suspensions, on its licence holders for non-compliance with its CPD program. Obligations under the program are designed to ensure and maintain public protection.
"Implementing a mandatory CPD program is an important part of upholding PEO's regulatory mandate and affirms to the profession, our stakeholders and the public that PEO is committed to establishing, maintaining and enhancing standards of engineering practice in Ontario," said PEO President Christian Bellini.
The mandatory program will be based on PEO's current, optional Professional Evaluation and Knowledge (PEAK) program, which was introduced in March 2017. As of January 2023, all PEO licence holders (both practising and non-practising) will be required to comply with the program to meet their professional obligations to stay current.
"Mandatory CPD is a key element of PEO's multi-year, enterprise-wide transformation to become a more modern, more efficient regulator," said CEO/Registrar Johnny Zuccon, P.Eng., FEC. "Once implemented, the program will provide further assurance to the public that Ontario engineers will be accountable for meeting the standards of the profession."
Key elements of the annual mandatory program will include:
a practice evaluation consisting of a practice status declaration and practice evaluation questionnaire which determines personalized CPD targets for licence holders;
a professional practice module for all licence holders that covers regulatory topics such as professional practice, engineering ethics and regulatory knowledge processes;
a continuing professional development report that involves a reporting mechanism for licence holders to respond to personalized CPD targets of up to 30 hours; and
compliance audits and administrative sanctions, including licence suspension for any overdue elements of the program, starting in 2024.