Strong investment levels have helped to drive construction employment since September
Posted on April 29, 2022
Construction has been a major driver behind Canada's recent employment boom.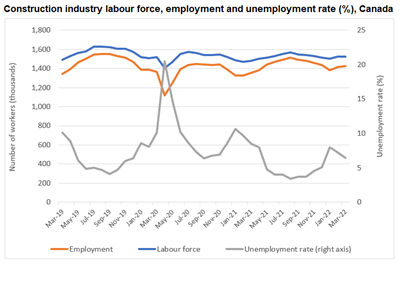 Data from Statistics Canada's March 2022 Labour Force Survey (LFS) shows that in the six months since September 2021, when all-industry employment returned to its pre-pandemic level, construction has accounted for nearly one quarter of the new jobs created.
All-industry employment increased by 2.4%, or 463,000 jobs over that period, with construction accounting for 110,000 of those jobs.
Statistics Canada gathered data for this most recent LFS during the week of March 13 to 19. Since the February reference week, provinces have continued to ease public health restrictions. Most notably, all capacity limits and proof-of-vaccination requirements were lifted in Ontario, Manitoba, Alberta, and Quebec prior to the March reference week.
On a seasonally adjusted basis, construction employment rose by 14,000 workers in March – the fourth month in a row in which the industry has added workers. Nearly all of the gains were reported in Ontario. The unadjusted data shows that in the first quarter of the year, construction (+24,000) accounted for just under half of the total all-industries net employment gains (+49,000) among core-aged men who belong to a population group designated as a visible minority; further evidence of the industry's commitment to diversifying its labour force.
The recent upward trend in the number of people working in the industry has occurred alongside steady investment growth in building construction since the fall of 2021.
Seasonally unadjusted numbers for the construction industry nationally show that employment rose by 13,500 (+1%) workers in March, adding to the gains reported in February. Employment in March was 5.5% higher (+74,800 workers) than in March 2021, and 4% higher (+58,400 workers) than the March 2020 level – when governments first began introducing COVID-related lockdowns.
Compared with March 2019 levels, employment in March 2022 is higher by 6%, or 80,800 workers.
Employment gains were evident across the Eastern and Central provinces. Prince Edward Island (+12.7%) and New Brunswick (+5.9%) recorded the largest increases, while the other provinces reported gains of less than 2%. Employment levels in Western Canada and the Prairie provinces, meanwhile, were lower or unchanged from February. These declines, however, were marginal, at less than 1%.
Compared to 2021, March employment levels were lower in Manitoba (-4.9%), British Columbia (-2.8%), and Alberta (-0.5%). These provinces, in addition to Newfoundland and Labrador, were also the only ones to see employment remain significantly below pre-COVID levels. The rest of Canada reported increases in employment over the previous year, with New Brunswick (+41.2%) and Prince Edward Island (+20.3%) reporting the largest gains. The remaining provinces reported gains of up to 12%. 
Manitoba saw its construction unemployment rate rise by four percentage points in March. Rates fell or remained constant across the rest of Canada. Newfoundland and Labrador experienced the largest decline in percentage points (-3.5%), followed by Prince Edward Island (-2.6%) and Quebec (-2.2%). The provincial unemployment rate in March was at or below March 2021 levels for most provinces, with Prince Edward Island and Manitoba being the only provinces to report higher rates of unemployment, year over year. Manitoba was also the only province to report higher unemployment levels compared to March 2019.
The construction labour force continued to expand in March, albeit at a slower pace compared to the gains reported in February. There were 2,200 workers that joined or returned to the construction industry in March, bringing the sector's labour force to 1,527,300 workers. The March labour force is notably higher, year over year (+48,200 workers; 3.3%), and is 1.7% higher than in March 2019. Newfoundland and Labrador, British Columbia, Manitoba, and Alberta were the only provinces to report labour force contractions compared to pre-COVID levels.
Finally, national hours worked rose by 3.7% in March. Consistent with the trends in employment, Manitoba reported a decline of 7.3% in hours worked. At less than 1% each, Nova Scotia and Prince Edward Island also reported marginal declines.
Total hours worked increased by 4.9% from March 2021 levels. Manitoba (-18.7%) and Nova Scotia (-1.3%) were the only provinces to report fewer hours worked over the same period. New Brunswick (+40.3%) and Prince Edward Island (+20.1%) experienced the most notable gains from March 2021 levels.
Compared to 2019, total hours worked were 6.8% above March 2019 levels.
This article was written by Bob Collins, BuildForce Canada's chief economist, and was first published to the BuildForce Labour Market Corner Blog on April 21, 2022.