Cambridge affordable-housing project gets $16M boost
Posted on August 03, 2022
An affordable-housing project in Cambridge is getting a boost of more than $16 million from the federal and provincial governments.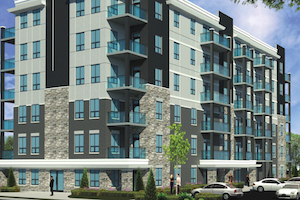 The new mixed-income residential building is located at 195 Hespeler Road and was developed by Home Concept Property Management. It will feature affordable units with visiting support services reserved for individuals with mental illness, physical disabilities, and Indigenous groups in Cambridge. Accessibility is central to the design of the building – which will include units with universal design, fully accessible units, and common areas with accessibility features.
The project broke ground in the spring of 2021 and is expected to be complete early next year.
"We welcome today's funding announcement to support the building of new affordable housing units in Cambridge," said Karen Redman, Chair of the Region of Waterloo. "Access to affordable housing is one of the most pressing challenges we face across the Region. We know that communities thrive when everyone has a place to call home, and with the support of government, community and industry partners, we are building ten times the number of affordable units that were being created prior to the pandemic."
The Government of Canada is investing nearly $15 million to support the project, while the province is contributing almost $1.4 million through its Investment in Affordable Housing for Ontario program, and more than $280,000 from its Social Infrastructure Fund.
The Region of Waterloo is contributing $634,520 to the project, and the City of Cambridge is contributing $700,000.