Payroll employment down, while job vacancies remain near record highs
Posted on August 02, 2022
The latest edition of Statistics Canada's Survey of Employment, Payrolls and Hours finds that payroll employment, which is the number of employees receiving pay or benefits from employers, fell by 26,100 (-0.1%) in May. This was the first decline on record since May 2021, with Ontario (-30,000) and Manitoba (-2,500) recording the greatest losses.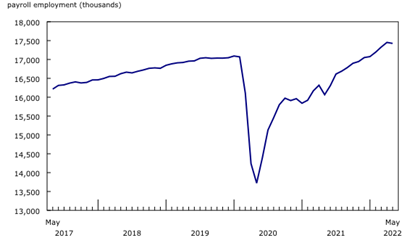 In the services-producing sector, the number of payroll employees decreased by 14,200 (-0.1%). Losses were spread across several sectors, including educational services (-12,100; -0.9%), health care and social assistance (-10,300; -0.5%) and retail trade (-8,000; -0.4%). In contrast, payroll employment increased in professional, scientific and technical services (+10,900; +0.9%), accommodation and food services (+9,200; +0.7%) and real estate and rental and leasing (+1,600, +0.6%).
Payroll employment in the goods-producing sector, meanwhile, decreased by 20,600 (-0.7%) in May, led by losses in construction (-17,500; -1.5%). Construction's loss in May was its first since July 2021.
Losses were spread across nearly all industries within the sector, with foundation, structure, and building exterior contractors (-6,900; -5.1%) recording the largest decrease, followed by other specialty trade contractors (-4,700; -3.7%) and building finishing contractors (-2,700; -2.5%).
Ontario (-12,000; -3.0%) accounted for more than two-thirds of the monthly payroll employment decrease in construction in May, likely due, in part, to strikes which resulted in numerous delays in projects across the province.
Payroll employment in construction also fell in British Columbia (-2,100; -1.2%) in May, where approximately 300 Lower Mainland concrete workers were on strike throughout the month. Alberta (-1,900; -1.0%) accounted for the majority of the remaining decrease, with New Brunswick (+200; +1.1%) being the only province to record an increase.
Job vacancies still over 1M
Across all sectors, employers in Canada were actively seeking to fill just over one million (1,005,700) vacant positions at the beginning of May. That figure was little changed from the record high of the previous month, and up 42.5% (+300,100) from May 2021.
The job vacancy rate, which measures the number of vacant positions as a proportion of all positions (vacant and filled), remained at 5.8% for a second consecutive month in May. That figure was up 4.4% from one year earlier.
A low unemployment rate of 5.1% combined with the high number of vacancies meant that the unemployment-to-job-vacancy ratio was 1.1 in May, down from 2.4 one year earlier. A lower unemployment-to-job-vacancy ratio indicates a tighter labour market and possible labour shortages.
Total labour demand, measured as the sum of filled and vacant positions, reached a record high of nearly 17.5 million in May, up 8.5% on a year-over-year basis.
 Across several sectors, job vacancies hold steady
In accommodation and food services, employers were actively seeking to fill 161,100 vacant positions in May, little changed from the previous month. The job vacancy rate was 11.9%, the highest of any sector for the 13th consecutive month. The high level of job vacancies in this sector reflects the difficulties faced by employers seeking to attract and retain workers.
The Canadian Survey on Business Conditions indicated that nearly one-quarter (24.6%) of businesses in the sector expected to have more vacancies over the next three months, nearly three times higher than the national average.
Job vacancies in retail trade (99,200), manufacturing (86,800), construction (84,600) and transportation and warehousing (51,100) were also little changed in May.