Safety inspector strike drags into week 6
Posted on August 31, 2022
A nearly six-week-long strike by safety inspectors working for Ontario's Technical Standards and Safety Authority (TSSA) appears to be turning acrimonious.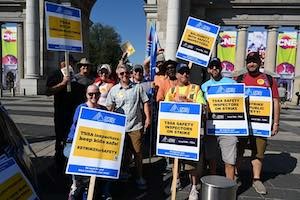 The 170 workers, who are represented by the Ontario Public Service Employees Union (OPSEU) went on strike on July 21. They have been bargaining for their first collective agreement since November.
The union says their latest offer – dated August 19 – was rejected by the TSSA after more than a week's silence and with a refusal to meet to discuss the proposed settlement. According to OPSEU, TSSA is unwilling to move off the terms proposed in its latest offer, presented on July 20.
"Last week's reasonable offer makes it clear the priority for the inspectors is negotiating a fair deal so they can get back to their rigorous safety inspections that keep us all safe," said OPSEU president JP Hornick. "Every single day these inspectors aren't doing their work is a bad day for this province with real consequences for people."
OPSEU is encouraging its members to write letters to Ontario Premier Doug Ford, encouraging the government to intervene in the strike and bring inspectors back to work.
"Inspectors know what a normal week looks like for us: it's keeping hospitals, construction sites, apartments, escalators and elevators in public transit stations, and more, safe and operating," said OPSEU/SEFPO Local 546 Bargaining Team Chair Cory Knipe. "A week is a long time when it comes to safety inspections. We're worried sick for our communities and want to get back to the table so we can get back our inspections."
Safety inspectors are responsible for inspections of construction sites and over 60,000 elevating devices across Ontario. They inspect fuel burning equipment, propane refuelling stations, amusement park rides, food trucks, and elements in nuclear power plants. TSSA safety inspectors also provide support to emergency services like police and fire services.