Whitby receives grant to study geothermal district heating project
Posted on August 02, 2022
The federal government has announced $44,000 in funding for the Town of Whitby to perform a feasibility study to pursue a large-scale geothermal district heating project.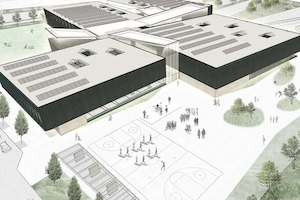 The money, which is being provided through the Federation of Canadian Municipalities (FCM) under the Green Municipal Fund, was announced on July 28 by Whitby MP Ryan Turnbull and FCM board member Rory Nisan.
The study itself will analyze the economic and environmental impacts of a geothermal district energy system. It will also outline the challenges with geothermal energy and examine ways of enabling large-scale sustainability projects in Whitby to make them more viable in the future.
"Geothermal heating provides clean energy to Canadians while reducing emissions," said natural Resources Minister Jonathan Wilkinson. "Our government is pleased to be supporting this innovative study to pursue a large-scale geothermal district heating project in Whitby. This investment supports Ontarians and Canadians in fighting climate change while reducing costs."
This geothermal system will be integrated into the construction of the Sports Complex, with further buildings added to the system as the land is developed. The system can be up to 90 percent more efficient than externally generated electricity and is reliable compared to other low-carbon energy sources.
"Building a more sustainable future is vital to our community," said Whitby Mayor Don Mitchell. "I'm also pleased to announce that the Town has partnered with Elexicon Group on this important initiative. Implementing this new district energy system will reduce greenhouse gas emissions by 96 percent compared to a business-as-usual model, while providing heating and cooling to the future Whitby Sports Complex, as well as surrounding commercial and industrial development."
The Green Municipal Fund, administered by the Federation of Canadian Municipalities, is funded through an endowment by the Government of Canada. GMF helps local governments switch to sustainable practices faster. Its unique mix of funding, resources and training gives municipalities the tools they need to build resiliency and reduce greenhouse gas emissions.