Algoma Steel donates $1 million toward Sault Area Hospital facility
Posted on July 20, 2022
Algoma Steel Group Inc. has announced a donation of $1 million to Sault Area Hospital (SAH) Foundation in support of the hospital's Residential Withdrawal Management Facility.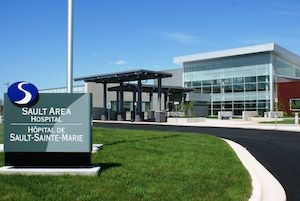 Construction and retrofitting of the property at 145 Old Garden River Road began last May. The new facility will provide 20 residential withdrawal management beds and safe beds in a completely renovated space.
Algoma Steel's gift will help SAH realize the full vision for the space, supplementing funding provided by the Ministry of Health earlier this year. Algoma's funds will be used to finish exterior areas, create safe outdoor courtyard spaces, provide outdoor furniture and fixtures, and complete an accessible, covered staff entrance – enhancements that would not have otherwise been possible.
The courtyards in particular will provide a culturally inclusive space that is reflective of surrounding geographies and respectful of individual expression, spaces where families can visit with residents, a venue for group therapy, and a safe and secure place for clients to step outside, all year round.
"Our team is proud to support the Sault Area Hospital in their construction of a Residential Withdrawal Management Facility," said Algoma President and CEO Michael Garcia. "Our local healthcare teams do incredible work every day to positively impact the lives of the communities they serve, a cause we care passionately about given the depth of our involvement in the community and the breadth of our workers, retirees and their families. Our shared goal is to build a stronger, healthier community in partnership with those that can help meet that goal."
"Algoma's gift will ensure those receiving care at the new facility are able to do so in culturally inclusive and welcoming spaces specifically designed to support patient-centered care. We are pleased to partner with Algoma Steel to create a healthier and stronger community together," said SAH President and CEO Ila Watson.