CIB announces $56M for U of T energy-retrofit projects
Posted on July 22, 2022
The Canadian Infrastructure Bank (CIB) announced on July 19 that it has committed $56 million toward deep energy retrofit projects at the University of Toronto.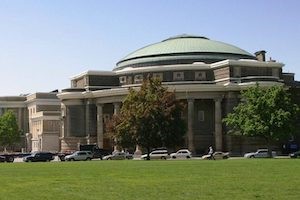 The CIB's investment applies to several retrofit projects at the U of T St. George Campus located in downtown Toronto.
They include: switching one of four gas boilers to electric and installing a supplemental steam turbine in the central heating plant; deep energy retrofits of six academic buildings; establishing a local, low-carbon energy source which will supply renewable energy; and implementing green-technology solutions such as carbon capture, energy storage and waste-to-fuel.
Financing from the CIB will help the St. George Campus become climate positive by 2050 and reduce greenhouse gas emissions across the campus by approximately 50 percent or 45,000 tonnes carbon dioxide equivalent annually.
"The University of Toronto is a global leader in addressing the urgent challenge of climate change," said president Meric Gertler. "Our Climate Positive plan will transform the energy sources on our campuses to ensure we can deliver on our mission of excellence in research and learning for generations to come. We are grateful to the CIB for recognizing and supporting our commitment to Canada's net-zero targets and to harnessing the innovation of cleantech startups on our campuses and beyond."
This is the second investment under the CIB's Building Retrofits Initiative, which seeks to achieve significant energy savings from infrastructure owned and/or managed by the public sector.
"We are proud to partner with a distinguished institution such as University of Toronto and invest in the ambition of leading institutions in becoming climate positive for years to come and support their continued academic and research excellence," said CIB CEO Ehren Cory. "We look forward to collaborating with other academic institutions to help them achieve their ambitious environmental goals."
U of T and CIB are expected to reach financial close in summer 2023.