GRT opens new bus maintenance facility
Posted on July 19, 2022
Grand River Transit (GRT) announced the grand opening of its new Northfield Drive Maintenance Facility on July 14.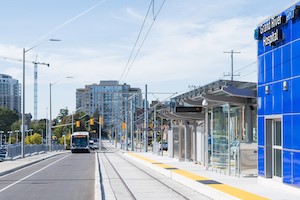 With space for 200 buses, the 305,000-square-foot facility can house larger capacity, articulated buses, which will help GRT as it continues to expand service frequency and services into new areas and communities within the region. Already, the transit operator has outgrown its two other maintenance and storage facilities in Kitchener and Cambridge.
"Public transit is key in helping us build stronger, more sustainable communities," said the Waterloo MP Bardish Chagger. "The new Northfield Drive Maintenance Facility will allow the Region of Waterloo to offer residents a modern and reliable transit system to connect them to work, school and each other for years to come."
The new building includes 22 maintenance bays, two service lanes, two bus wash stations and office space for GRT staff.
Building in Waterloo creates options for more efficient operations and maintenance for GRT. Buses will not have to travel as far to and from the facility at the beginning and end of the day. The building will also support GRT's transition to a zero-emission bus fleet and will be home of the new electric buses and charging infrastructure pilot in 2023.
The facility has several green features, including bike storage, rainwater harvesting for the bus wash, lots of natural light, a 6,750-square-foot green roof and LED lighting. The building will go through a green building verification and review process to achieve LEED certification.
"The new Northfield Drive Maintenance Facility will support more frequent, efficient and faster transit options for families, businesses and communities in the growing Waterloo Region," said Ontario's Infrastructure Minister Kinga Surma. "Investments in critical transit infrastructure, like the one being announced today, are just one of the many ways our government is working to carry out Premier Ford's vision to Build Ontario, while creating jobs, stimulating economic growth, and keeping the flow of people, goods and services moving smoothly."
The Government of Canada contributed 40 percent, the Government of Ontario 33 percent and the Region of Waterloo 27 percent toward the $119-million project.