Industry, academics partner on low-carbon concrete research project
Posted on July 29, 2022
A group of construction companies are participating in a special research project at Queen's University to study low-carbon concrete design.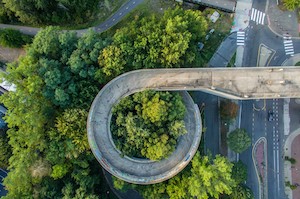 On the academic side, the project is being led by Dr. Neil Hoult, a professor in the university's civil engineering department, alongside assistant professor Josh Woods, University of Toronto professor Evan Bentz and University of Cambridge assistant professor Dr. John Orr. Its goal: to make Making the concrete industry more sustainable and environmentally friendly.
"If we can reduce the carbon produced in concrete manufacturing by even a fraction, it's going to have a significant positive benefit," says Dr. Hoult. "Increased urbanization means that the demand for concrete is going up. Our research aims to cut the carbon dioxide emissions generated by concrete production in half – the equivalent of eliminating the airline industry, twice over."
To achieve the project's goals, the researchers and their corporate partners will adopt several approaches. The first is shape optimization, meaning studying how to better design structures to use less concrete – which reduces both material consumption and structure weight.
The second is what's known as functionally graded concrete.
"We put concrete with higher strength where we need the strength, then we use lower strength concrete (which also means lower cement concrete) everywhere else," said Dr. Hoult. "We will be working on software packages that allow for these new techniques to be used in the design, optimizing structures for performance and low environmental impact."
Participating from the industry side are Arup, Aecon, KPMB Architects, and Lafarge, along with the City of Kingston and the Cement Association of Canada, with funding from Natural Sciences and Engineering Research Council of Canada and Mitacs.
"Lafarge is excited to participate in a project like this one – it fits perfectly into our green growth roadmap," said Lafarge's innovation and development manager Abdurahman Lotfy. "The integration of our mix design expertise through our ECOPact concrete product line coupled with smart structural engineering design will allow for much lower embodied carbon than would be possible otherwise. This models the sort of partnerships we need to foster innovation in building design and advance our sustainability targets."
The bulk of the initial research and testing will be completed in the Queen's civil engineering labs. Moving from the lab to practical applications, however, will take the project into the real world in Kingston, with the support of city and industry partners. The project includes the design of a demonstration structure at the Kingston Fire and Rescue Training Centre.
"Aecon and Lafarge will help us build it, and it's all going to happen at the Kingston Fire and Rescue Training Centre," said Dr. Hoult. "It's going to be both actively used by Kingston's Fire Services as a classroom and as a living lab so that Queen's and St. Lawrence College students can come and learn about low-carbon buildings. We're aiming for a net-zero building philosophy."
The City of Kingston, meanwhile, has been working with post-secondary educational partners on learning hubs to investigate new approaches and technologies to aggressively decarbonize infrastructure.
"We are working with the low-carbon concrete research team to develop a real-world application for demonstration purposes and ongoing research," says Kingston's facilities management and construction director Speros Kanellos. "It's really exciting to participate as a partner in the kind of initiative that embodies the city's and university's leadership on climate action."