Nexii announces $2B market valuation
Posted on July 15, 2022
Low-carbon building manufacturer Nexii announced earlier this week that its market valuation is now in excess of $2 billion.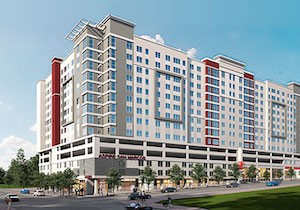 The new comes as the company announced additional fundraising of $45 million that was led by Horizon Technology Finance Corporation and Trinity Capital Inc.
The company says the funds will help accelerate Nexii's continued growth and manufacturing capacity in order to meet surging demand for sustainable construction solutions.
"Since our original commitment last year, Nexii has made significant strides within the construction industry through its innovative, efficient and environmentally conscious building solutions, positioning it well to further expand its operations," said Horizon President Gerald Michaud. "We are excited to add to our support of Nexii as it continues its strong growth trajectory."  
Nexii's proprietary building system and material Nexiite, which is a sustainable alternative to conventional concrete, cuts construction waste to near-zero, slashes build times and significantly lowers both the embodied and operational carbon of buildings.
The company has seen its building products deployed across a variety of projects for such as clients as Starbucks, Popeyes and Marriott. Earlier this year, Nexii also opened its first manufacturing plant in the United States, and announced a partnership with Siemens to develop an electric-vehicle charger prototype that will make installing EV chargers faster, more cost-effective and with reduced environmental impacts.
"Our revolutionary green building solutions are enabling us to win new projects with some of the largest global brands, and with Horizon and Trinity's expanded support, we are well situated for continued growth and to deliver our sustainable construction technology worldwide," said Nexii CEO and co-founder Stephen Sidwell.
The construction industry is the world's largest contributor to solid waste, and buildings are the leading source of climate pollution, accounting for 37% of emissions globally.
Nexii buildings have approximately 31% less embodied carbon than conventional construction materials and are fire, flood, hurricane and earthquake resilient.
The company's building process also accelerates standard build times by up to 75% and eliminates nearly all onsite construction waste.