$38M in funding announced for community and recreation infrastructure projects
Posted on May 06, 2022
The federal and provincial governments have announced a combined investment of more than $38 million to support 12 community and recreation infrastructure projects across Ontario.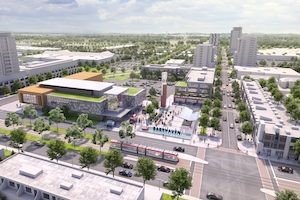 Chandra Arya, Member of Parliament for Nepean, was alongside provincial Minister of Heritage, Sport, Tourism and Culture Lisa MacLeod, and Ottawa Councillor Jan Harder to announce the funding.
The federal government is investing more than $20.8 million in the projects. The province is providing more than $17.3 million, while recipients and partners are contributing over $13.8 million.
One of the projects being funded is the construction of the Barrhaven Town Centre in Ottawa's south end. The project will include the construction of a 15,000-square-foot cultural centre, a 3,000-square-foot seniors' space, and library of more than 25,000 square feet. The work s valued at more than $38 million.
"Cultural infrastructure is vital in ensuring community development and wellbeing," said Arya. "Today's investment will provide thousands of Barrhaven residents access to a modern, welcoming space where they can come together to enjoy cultural events, learn and socialize."
Additional funding announced will support recreation and community infrastructure projects in Ajax, Brantford, London, Kitchener, Kingsville, Perth East, Cramahe, Howick, Clarence-Rockland, Madoc, and Lambton Shores.
These projects include improvements to local community centres and facilities, theatres, playgrounds, rinks, outdoor courts, and pools. None is valued at more than $4.6 million.
The federal government says it has invested more than $18.7 billion in over 4,200 infrastructure projects across Ontario in the past six years.