Construction costs rise in Q1
Posted on May 11, 2022
Construction costs are on their way up.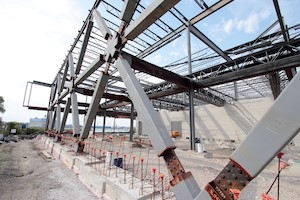 Statistics Canada's latest look at building construction prices – for the first quarter of 2022 – shows an increase of 5.6% in residential construction costs, and an increase of 2.6% in non-residential costs.
Contractors surveyed by Statistics Canada attributed part of the growth in building construction costs to the rise in labour costs. A surge in the number of vacancies for construction trades has contributed to increased wages in these occupations. Rising fuel prices also led contractors to disclose that a larger share of their expenses were now allocated to the transportation of their building materials.
Increase in price growth for residential building construction
Growth in residential building construction costs accelerated during the first quarter of 2022, after moderating in the previous two quarters. The majority of the 11 census metropolitan areas (CMAs) covered by the survey recorded larger quarterly increases than the previous two quarters. Rising residential construction costs were largely driven by rebounding softwood lumber prices.
Costs to construct residential buildings increased the most in Calgary (+6.9%), followed by Edmonton and Toronto (both up 6.8%). While the costs to build a single-detached house in Toronto grew the most in the first quarter, the cost to build townhouses rose the most in both Calgary and Edmonton.
Non-residential building construction cost increases moderate
Increases in non-residential building construction costs, meanwhile slowed or stabilized in most of the CMAs covered by the survey. Rising non-residential construction costs remained largely driven by continued price growth in structural metal products, which have been impacted by supply chain constraints.
Non-residential building construction costs rose the most in Toronto (+3.6%) and Montréal (+3.0%), with the cost to construct warehouses and factories increasing the most in these CMAs. Higher costs in Toronto are likely driven by increased investment in warehouses and factories. Investment into warehouses in Toronto in particular reached an all-time high in January, while investment into factories rebounded between November 2021 and February 2022 after declining over the previous year and a half.
Plumbing and electrical cost growth trending higher
Plumbing and electrical product prices continued to climb in the first quarter of 2022, with electrical safety and security systems recording historically strong quarterly price growth. These higher prices have had a particular impact on the construction costs of schools and factories.
Contractors surveyed attributed increased plumbing prices to both rising labour costs and the higher price of material. Costs of plastic and rubber products hit a record-high year-over-year growth (+19.0%) in February 2022. Prior to September 2021, double digit year-over-year growth for plastic and rubber products was last seen in 1995.
Prices for electrical, electronic, audiovisual and telecommunication products also reached a year-over-year peak (+20.9%) in February 2022, which continued the upward trend observed in the previous year.
Year-over-year growth in construction costs surpasses previous highs
Building construction costs for residential construction in the 11-CMA composite rose 22.6% year over year in the first quarter of 2022, surpassing the high (+21.9%) registered in the previous quarter. The largest increases were in Calgary (+31.4%), Edmonton (+26.6%) and Toronto (+26.5%).
Non-residential construction building costs rose 12.8% year over year in the first quarter, also surpassing the previous high (+11.4%) of the last quarter. Construction cost increases were the largest in Toronto (+17.3%), Ottawa (+17.2%) and Edmonton (+13.9%).