Federal government updates CBTU training commitment
Posted on November 23, 2022
Federal employment minister Carla Qualtrough visited the LiUNA Local 527 Training Centre in Ottawa on November 17 where she highlighted the close to $49 million in funding the government had previously provided to Canada's Building Trades Unions (CBTU) for a project under the Apprenticeship Service.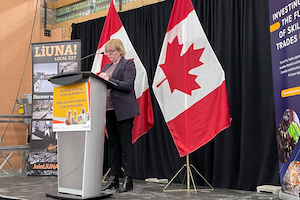 The project provides financial incentives and support to small and medium-sized enterprises (SMEs) in British Columbia, Alberta, Saskatchewan, Manitoba, Ontario, New Brunswick, Nova Scotia, Prince Edward Island and Newfoundland and Labrador.
"Through the Apprenticeship Service, we are making sure that businesses can draw from a diverse pool of talented, skilled workers to fill critical labour shortages," said Qualtrough. "We're committed to helping dedicated organizations like LiUNA provide essential, high-quality training to prepare skilled trades workers to enter the field."
Since the project was announced in May, CBTU have begun reaching out to SMEs to recruit as many as 5,000 first-year apprentices in eligible Red Seal trades over the next two years. This includes a minimum of 680 from equity-deserving groups such as women, Indigenous people and newcomers. The project is also working to set up an advisory committee with representatives from diverse stakeholder groups, including building trades unions, employers, trainers and organizations representing equity-deserving groups.
First-year apprentices in eligible Red Seal trades will get hands-on experience and training to earn their Red Seal journeyperson certifications as a result of connecting with these job opportunities. The organizations that are being funded under the Apprenticeship Service will distribute financial incentives to SMEs and provide additional supports, such as help navigating the apprenticeship system. They will also develop training for SMEs to support them in effective onboarding of apprentices and creating welcoming and inclusive workplaces. To help Canadians facing barriers to a career in the skilled trades, the incentives are doubled for SMEs that hire from equity‑deserving groups.

This project is one of the 13 Apprenticeship Service projects the federal government announced last May. Through the Apprenticeship Service, the government is investing over $393 million in 19 projects to support the creation of more than 42,000 apprenticeships across Canada.
"Canada's Building Trades Unions are leaders in delivering the highest-quality training to produce the safest skilled trades workforce anywhere in the world," said executive director Sean Strickland. "With CBTU's vast network of training centres and employers and world-class apprenticeship programs, we can ensure apprentices can access job opportunities, training and support to not only start an apprenticeship, but also complete it. With the support of the federal government, In The Trades will create opportunities for more Canadians from equity-deserving groups to get started in an apprenticeship, while providing support to unionized contractors to grow Canada's skilled trades workforce."
The Government of Canada is investing nearly $1 billion annually in apprenticeship supports through grants, loans, tax credits, Employment Insurance benefits during in-school training, project funding, and support for the Red Seal program.
Announced in Budget 2019, the Canadian Apprenticeship Strategy will strengthen existing apprenticeship supports and programs by helping apprentices and key apprenticeship stakeholders, including employers, to participate and succeed in the skilled trades.
There are more than 195,000 SMEs in Canada who work in the eligible Red Seal trades. The Apprenticeship Service will help them hire more first-year apprentices, which will help fulfill Canada's labour market needs.
According to the Canadian Apprenticeship Forum, in order to meet the demand for skilled journeypersons in Red Seal trades, an average of approximately 75,000 new apprentices will need to be hired per year over the next five years. The top trades most at risk of not meeting the demand include welder, industrial mechanic (millwright), bricklayer, boilermaker, cook and hairstylist.