Feds commit $800M to clean energy projects
Posted on November 22, 2022
The federal government has announced investments of up to $800 million in projects to support the development of the clean fuels sector.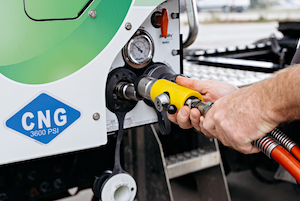 Natural Resources Minister Jonathan Wilkinson announced the funding on November 14. He indicated that as many as 60 projects had been chosen to receive funding under the Government of Canada's $1.5-billion Clean Fuels Fund.
These projects, which include production facilities, as well as feasibility and front-end engineering and design studies, spanning seven jurisdictions and covering five different fuel types, have a total combined value of more than $3.8 billion.
The terms of funding for each project have not yet been finalized, but the government indicates it will contribute as much as $800 million to support them.
Wilkinson added that second tranche of projects, from last year's call for proposal, is currently being reviewed, with funding decisions expected to be finalized in December.
The minister also announced a combined investment of more than $8.8 million to six organizations for 10 hydrogen and natural gas refuelling stations to help accelerate the decarbonization of road transportation.
These include:
$1 million to Carlsun Energy Solutions Inc. to build a hydrogen station in Ontario,
$1 million to Tomlinson Environmental Services Ltd. to install a natural gas refuelling station in Ottawa,
$3 million to HTEC to install three hydrogen refuelling stations in British Columbia,
$2.2 million to FortisBC Energy Inc. to build three natural gas refuelling stations in Delta, Kelowna and Abbotsford, British Columbia,
$1 million to the University of British Columbia to install one hydrogen refuelling station in Vancouver, British Columbia, and
$647,000 to the County of Vermilion River to build one natural gas refuelling station in Kitscoty, Alberta
"Our investment in a compressed natural gas (CNG) station has had an immediate impact on the carbon footprint of our services and is just the first step of our carbon emissions reduction plan that will see us build on our legacy of landfill diversion by converting waste streams to lower carbon intensity fuels like renewable natural gas (RNG) and other products as technology evolves," said Ron Tomlinson, Chief Executive Officer, Tomlinson Environmental Services Ltd. "Tomlinson's new CNG station represents a major addition to Ottawa's alternative fuels infrastructure, and we look forward to welcoming fleets that share our vision of long-term environmental sustainability to refuel at our station."
Federal funding for the projects was provided through Natural Resources Canada's Zero-Emission Vehicle Infrastructure Program and the Electric Vehicle and Alternative Fuel Infrastructure Deployment.