IO releases November P3 Market Update
Posted on November 23, 2022
Infrastructure Ontario's (IO's) latest P3 Market Update document lists 39 major infrastructure projects in various stages of development, with an estimated combined value of $35 billion.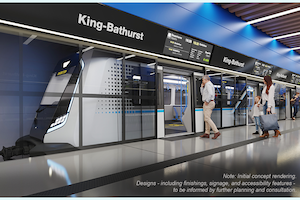 The provincial infrastructure agency released its third quarterly report for the year on November 22. The document lists the various healthcare, long-term care, transportation, education, and other critical infrastructure projects in the pre-procurement, procurement and planning stages.
The list helps potential private-sector partners organize their time and resources to make sure the province gets competitive bids for its public infrastructure projects.
It also includes 16 projects in early stages of planning, for which scope, timing and delivery model are still being determined.
"Our government is continuing to get the job done through our partnership and collaboration with the construction sector," said Infrastructure Minister Kinga Surma. "We will keep engaging with key stakeholders to understand the current economic environment and identify solutions to overcome challenges and help us continue to build on our successes. At the same time, we are investing in critical infrastructure projects to help create jobs, support our economic future, and ensure the health and well-being of all Ontarians."
Highlights from November update include:
Public Works – Ontario Place Site Servicing – now in pre-procurement
Education – Education Rapid Builds Program – now in pre procurement
Justice – OPP Modernization Phase 3 – now in planning
Ontario Line North segment: Elevated Guideway and Stations; and Pape Tunnel and Underground Stations – now both in active procurement
"We have been relentless in bringing projects to market and refreshing the pipeline while considering new government priorities," said IO CEO Michael Lindsay. "Continuing to deliver on the government's historic commitments means continuously improving upon and evolving how we attract the best companies to compete for our work and deliver great projects on behalf of the government and people of Ontario."
In his cover letter to support the update document, Lindsay explained that since the COVID-19 pandemic began, IO has brought more than two dozen projects to market. That includes 11 healthcare projects, 10 subway projects, the first of its rapid build projects, a number of Progressive P3 and Progressive DB target price contracts, as well as a multi-year contract to support the strategic management of its real-estate portfolio.
Lindsay said IO is also preparing for the re-procurement of its Project Management Service Provider program. The program involves managing a variety of enhancement, expansion and new construction projects across the government's general real estate portfolio and other ministry-driven projects across the province.
IO's chosen provider will deliver more complex projects with a value of up to $20 million from inception through to final completion, including design, construction and commissioning, utilizing a predominantly design-bid-build contract model for designers and contractors.
IO aims to sign a contract for the arrangement in the fall of 2023, with a planned contract commencement slated for the spring of 2024.
The projects in this latest P3 Market Update are part of the government's investment of more than $159 billion in planned infrastructure over the next 10 years.