Ontario commits $3.5M to PBCTCO training programs
Posted on November 18, 2022
The provincial government has announced another investment in training initiatives to help more students launch careers in the skilled trades.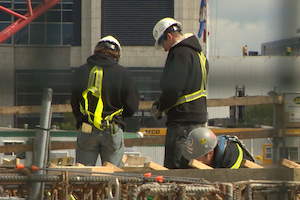 On November 17, Labour, Immigration, Training and Skills Development Minister Monte McNaughton said the province had committed $3.5 million in funding to a series of projects being led by the Provincial Building and Construction Trades Council of Ontario (PBCTCO).
The projects, says the province, will prepare nearly 2,000 young people for well-paying jobs in the construction industry, including a path to paid training and union-sponsored apprenticeships.
"Whether it's through the launch of our skilled trades career fairs or innovative projects like this, we're preparing the next generation of young people for six-figure salaries in in-demand industries," said McNaughton. "We need all hands on deck to deliver our ambitious infrastructure plans, which is why we're bringing labour, government and business together to build a stronger Ontario that leaves no one behind."
The PBCTCO's Tomorrow's Trade programs provide training to at-risk youth and allow students to explore careers in the construction trades, meet industry mentors and develop essential construction sector skills. The programs are available for students in London, Hamilton-Niagara Peninsula, Ottawa, Toronto, Windsor-Sarnia and Sudbury until March 2023.
The investment will also support PBCTCO programs aimed at recruiting people who have traditionally been underrepresented in the construction and skilled trades.
The PBCTCO represents 12 construction unions with a combined membership of 150,000 workers.
"Every student deserves to graduate with the skills they need to find a rewarding and well-paying career," said Melissa Young, CEO/Registrar of Skilled Trades Ontario. "Construction offers job security, high salaries, and the chance to build an exciting career. Programs like Tomorrow's Trades are helping to ease the transition from the classroom to the workforce and will be critical to addressing the labour shortages we're seeing in the construction sector."
The province also announced it will expand eligibility of its Skills Development Fund, along with an additional $40 million investment, to support more training projects for high-school and postsecondary students. The change, which takes effect immediately, will help more young people transition from school to rewarding and purpose-driven careers in high-demand sectors and help deliver the province's infrastructure plans.
"We commend Minister McNaughton for increasing the amount of funding available in SDF Round 3," said Walter Pamic, Chief Executive Officer, Power-Tek Group of Companies
Our company has seen first-hand how this investment improves lives and gives people a rewarding career in the skilled trades. Our industry is facing an unprecedented shortage of workers and we are grateful that the Ford Government is investing in training to help address that issue.
The announcement brings Ontario's total investment in the Skills Development Fund to more than $620 million.
Since the Skills Development Fund launched in February 2021, it has delivered 388 training projects, helping close to 400,000 workers and jobseekers take the next step in their careers in in-demand industries. Organizations planning training programs for students are encouraged to participate in the ongoing call for SDF project proposals by applying through Transfer Payment Ontario.
Applications for the third round of funding from the Skills Development Fund will be accepted until January 31, 2023. Interested organizations can apply through Transfer Payment Ontario. The province is preparing to launch a dedicated stream for larger capital projects later this year.