PCL provides update on Rogers Centre renovation work
Posted on November 24, 2022
PCL Constructors has updated progress on its work on the Rogers Centre.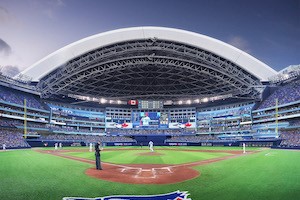 The company was awarded the contract to perform the first phase of work on the Toronto stadium in October. The contract is part of a multi-year, $300-million initiative to transform the 33-year-old multi-purpose stadium into a ballpark.
"PCL and our partners are passionate about bringing the Toronto Blue Jays' reimagined vision for Rogers Centre to life," said Monique Buckberger, vice president and district manager, PCL Toronto. "Following months of preconstruction planning, our team hit the ground running on the first phase of renovations to give the home of Canada's Major League Baseball team a new look for the 2023 Home Opener."
To meet the fast-track schedule, work is being sequenced in two shifts over a six-day work week. An average of about 110 workers have been on site daily.
Demolition work on site began on October 14 with the removal of some 17,000 seats in the stadium's 500 level. The demolition took about a month to complete. Two mobile cranes (90 tonne and 50 tonne) were used to bring the seats down from the uppermost tier, with new seats scheduled for delivery in January.
Structural demolition in the outfield began on October 20, and was completed on November 18, after approximately 21,000 worker hours.
During demolition, approximately 2.2 million pounds of materials have been recycled from the stadium, including: 1.3 million pounds of concrete and 900,000 pounds of steel and metal.
The size of the stadium allows for multiple projects to progress at the same time, so while demolition was being completed, building began the second week of November with concrete poured in the 500L and new structural steel installation.
New construction to be added to the Rogers Centre at field level call for a players' family room, 5,000-square foot weight room and staff locker rooms. In the 100 and 200 level outfield tiers, the construction crews will create multiple social spaces with patios, drink rails, bars, and viewing platforms, raise the stadium's bullpens and surround them with traditional and new bleacher seats and social viewing to increase fan and player interaction, and bring the 100-level-seats closer to the outfield walls to bring fans closer to the game.
In the 500-level, the construction crews will add two new social decks in right and left fields, and replace all seating.
Rogers Centre has not undergone a large-scale renovation in its 33-year history.
The Blue Jays' 2023 home opener is scheduled for April 11.