Province commits $1.5M for trades training in Thunder Bay
Posted on November 09, 2022
The Government of Ontario has committed $1.5 million to fund three skilled-trades training programs in Thunder Bay.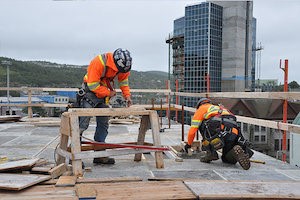 Through the programs, more than 100 Indigenous people will get practical, hands-on training and apprenticeship experience to prepare for well-paying jobs. The opportunities, the province says, are part of a record investment of more than $77 million it will make this year to get more young people into in-demand skilled trades careers.
"Careers in the skilled trades offer the opportunity to work anywhere, and the good pay to buy a home and raise a family," said Labour, Immigration, Training and Skills Development Minister Monte McNaughton. "Our government is proud to bring these purpose-driven careers within reach for more Indigenous communities in the North, and for more young people across our province to help tackle our historic labour shortage."
Two of the pre-apprenticeship training projects in Thunder Bay are run by Anishinabek Employment and Training Services (AETS), with the Carpenters Union Local 1669 and Confederation College. They will introduce participants to general carpentry as well as the basics of welding and electrical trades. Participants will get classroom training and a 12-week paid work placement to gain valuable hands-on experience. Funding is from Ontario's $28 million pre-apprenticeship program.
"The Carpenters Union is proud to be a part of providing high level training to our Northern Ontario partners through our training centre," said Evan Reid, President, Carpenters Local 1669 Training Centre. "Delivering programs such as pre apprentice training gives individuals an opportunity to gain skills as well as receive any mandatory occupational health and safety training, prior to beginning a career in the construction industry."
AETS pre-apprenticeship training programs are receiving $876,286 in funding for two projects and have 72 Indigenous participants from the Robinson-Superior Treaty Territory First Nation communities.
The government is also investing $644,000 in the Kiikenomaga Kikenjigewen Employment and Training Services (KKETS) to help 35 Indigenous people prepare for well-paying jobs as construction craft workers, plumbers and electricians. The program is free for participants and available to anyone from the nine Matawa First Nations communities in the Thunder Bay region.
The KKETS project is funded through the province's $560-million Skills Development Fund.
"Ensuring prosperous communities for both Indigenous people and Northern Ontarians is a top priority for our government", said Northern Development and Indigenous Affairs Minister Greg Rickford. "This investment opens the door for Ontarians to make a change in their career, leading to an improved quality of life for themselves and their families while filling crucial gaps in the skilled trades."
The province has also increased funding for the Achievement Incentive program by more than $24 million this year, bringing total funding for the program to $49 million. The program encourages apprentice training progression, completion, and trade certification through milestone payments to businesses of up to $17,000 per apprentice.
Approximately 350,000 jobs are going unfilled across the province, while one in five job openings in Ontario is projected to be in the skilled trades by 2025. There are over 21,000 jobs going unfilled in Northern Ontario.