Developers proposed $300M battery plant in Sault Ste. Marie
Posted on September 21, 2022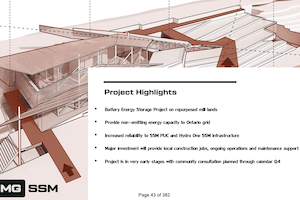 Sault Ste. Marie Council has given a preliminary thumbs-up to a $300-million project that would see the construction of a massive battery storage facility in town.
The proposal was submitted to council for support by a joint venture of BMI Group, Bioveld Energy Ventures and SB Energy.
The group proposes to develop, build and operate a battery energy storage facility on repurposed land at 95 Huron Street, and consists of installing grid equipment and battery components.
Dubbed "MillGEN", the project is in the very early stages, with community consultations planned over the rest of the year. Subject to approval by Ontario's Independent Electricity System Operator, construction of the project could start in the fall of 2023 with commercial operations scheduled for 2025.
The facility, which has a planned installed capacity of 150 MWh of energy storage, would provide non-emitting energy capacity to the Ontario grid and increase the reliability to PUC and Hydro One infrastructure.
It would also, says the report to city council, "provide local construction jobs, ongoing operations and maintenance support," and "enhance Sault Ste. Marie's position as an innovation leader in the energy sector."