Dot Foods breaks ground on Ingersoll distribution centre
Posted on September 20, 2022
Dot Foods Canada has officially started construction of a new distribution centre in Ingersoll.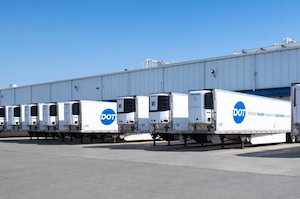 The food distribution company plans to build the $50-million, 168,000-square foot facility on Ken McKee Street near Highway 401. The company says the centre will create 200 jobs in its first three to five years of operation.
"We are very strategic in determining the best place to build a new facility," said John Tracy, executive chairman of Dot Foods Canada. "Ingersoll is a great location for us because of the workforce available here and the space available to support our future growth. We're excited about the careers we have to offer and about the people who will join our Dot Foods Canada family. There's a lot of opportunity for our distribution model in Canada, and we look forward to better serving our current customers and reaching new ones with the establishment of this distribution centre."
Dot initially established operations in Canada in 2016 with the purchase of Canadian food redistributor Marketwest, and set up distribution centres in Calgary, Alberta and Brampton, Ontario. When the Ingersoll facility is complete in spring 2023, it will replace operations at the currently leased Brampton location.
Phase one of the Ingersoll distribution centre will include offices and dry, refrigerated, and frozen warehouse space. The L-shaped designed of the building gives Dot the ability to easily expand all warehouse and office spaces in future years, up to as much as 350,000 square feet. Dot also plans add on-site garage facilities to support its transportation fleet.
"Dot Foods' new distribution centre will be a wonderful addition here in Ingersoll. This new facility shows that our government's commitment to making Ontario open for business is working," said Oxford MPP Ernie Hardeman.
The groundbreaking also marked the kickoff of Dot Canada's charitable giving program at its newest location. The company announced $50,000 in donations to five area non-profit organizations, including the Salvation Army Food Pantry, Operation Sharing, Ingersoll Interchurch, STICH Supper Club, and Alzheimer's Society.
The recipient groups were selected by Dot for their close alignment with the company's charitable areas of focus.
"We're very excited that Ingersoll is part of Dot Foods' future and welcome them into our community," said Ted Comiskey, Mayor of Ingersoll, Ontario. "Dot Foods' investment highlights the strategic location and opportunities that Ingersoll has to offer. We're very proud of the fact that Dot will be creating hundreds of great jobs and giving very generously through their charitable endeavours. We look forward to a very bright future for Dot Foods, Ingersoll, Oxford County, and all of Southwestern Ontario."
Work on the Dot Foods Canada Ingersoll distribution centre is already underway. Dot selected Maple Reinder as the design-builder of the project. Dot will also employ a substantial number of local and regional contractors on this project.
Founded in 1960 and headquartered in Mt. Sterling, Illinois, Dot Foods is North America's largest food industry redistributor, serving all 50 states and more than 55 countries with a product offering of 125,000 items.