Five TD Centre towers earn WELL Gold certification
Posted on September 23, 2022
Earlier this summer, developers Cadillac Fairview (CF) announced that five of the six towers at the TD Centre in downtown Toronto had earned WELL Core Certification at Gold level.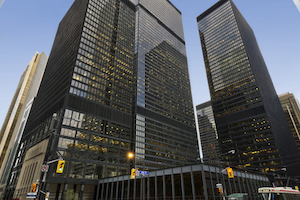 A sixth tower on the site, which is under construction, also achieved the WELL Precertification. The collective certifications make TD Centre, at 4.3 million square feet, the largest real estate complex in Canada to achieve the designation.
"For over 50 years, TD Centre has been an influential gathering place for some of the world's leading corporations and thousands of their employees," said Landry Biles, General Manager, Toronto-Dominion Centre. "The WELL Core Gold accomplishment is an important reflection of our ongoing efforts to create a vibrant, welcoming, safe and healthy environment across our entire portfolio, and as the largest office complex to achieve this status, we're proud to champion the importance of health and wellness."
CF began its pursuit of WELL designation for TD Centre in 2015. The facility has since become the first office building in North America to achieve WELL v1 Core & Shell Certification at Gold level for its 222 Bay Street location.
Delivered by the International WELL Building Institute (IWBI), WELL is an evidence-based roadmap to support human health and well-being in buildings, organizations and communities.
Organizations like CF pursue WELL Certification by demonstrating achievement across ten areas in WELL or to pursue WELL ratings, which comprise designated sets of features from the WELL Standard, to drive improvement in human health, impacting company culture and resilience.  
"Congratulations to Cadillac Fairview for achieving WELL Certification at Gold level at its iconic TD Centre in Toronto," said Olesy Alekseev, vice president and Canada lead at the International WELL Building Institute. "Cadillac Fairview has been an early adopter of WELL Building Standard and this achievement marks a milestone for Cadillac Fairview becoming the largest portfolio in Canada to achieve WELL Certification."
CF, meanwhile, maintains 29 WELL health-safety ratings across its Canadian office portfolio.