Kingston company delivers first multi-storey 3D printed building in North America
Posted on September 16, 2022
Kingston-based 3D construction printing company nidus3D has announce the completion of construction of North America's first multi-storey 3D printed building.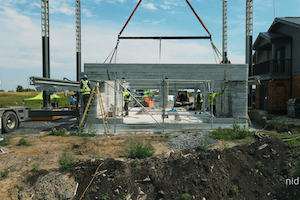 The mixed-use building, which is located on Wolfe Island near Kingston, spans 2,300 square feet over two storeys. It is the second structure built by nidus3D.
The company used the BOD2 printer from COBOD, an American-based 3D construction printing solution company. COBOD's technology has already been used 3D print the first two- and three-storey buildings in Europe.
The BOD2 printer can print with real concrete with a particle size up 10mm and 99% based on locally found raw materials.
COBOD and nidus3D both believe this new way of building will help address Canada's housing crisis.
"We have critical shortfall of skilled laborers, and a massive and growing demand for housing across Canada," said Ian Arthur, one of the nidus3D founders. "If we do not begin to look at new ways of building, we're never going to catch up. Part of our core values is to seek solutions to address the housing crisis and to help build affordable housing with the help of 3D printing"
3D concrete printed houses can be built quickly. The Wolfe Island building took only 80 hours to print, down from the 200 hours of the first building. nidus3D is convinced that future buildings will be made even faster.
"Our technology and 3D construction printers enables faster execution of construction projects, as well as more efficient construction at lower cost due to the lower labor requirements and usage of low-cost concrete," said Philip Lund-Nielsen, Co-Founder & Head of Americas at COBOD International. "COBOD's 3D construction printers have been used all over the world, and while this two-story building in real concrete is a first and a great success for us in North America, the world-wide success of our technology proves the wide scale applicability of our technology."